"ACT OF VALOR" okiem Dareckiego
Darecki D-ca Black Widow S?upsk KP. Specjalizacja: pikantne relacje z imprez.
Ostatnio producenci filmowi nie rozpieszczaj? nas maniaków wojskowo?ci i militariów. Tak na prawd? od czasu "Helikoptera w ogniu" Ridley'a Scott'a nie widzia?em filmu, który przyku? by mnie do telewizora na d?u??j. No mo?e wspomn? jeszcze "?zy S?o?ca" z Willisem i Monic? Belluci. Film utkwi? w mej pami?ci ze wzgl?du na nienajgorszy scenariusz ale równie? pi?kny dekolt b?d? co b?d? pi?knej Monici Belluci.
Gdy pierwszy raz zobaczy?em trailer filmu Act of Valor zacz??em szuka? jakichkolwiek informacji na jego temat.
Szczerze mówi?c po do?? ?rednim "Special Forces" u nas znanym jako "Terytorium Wroga" moje oczekiwania by?y jeszcze wieksze. Po przeczytaniu opisu filmu na stronce Filmweb.pl mia?em nadziej?, ?e producenci tego nie skopali. Poni?ej opis ze wspomnaiej stronki traktuj?cej o filmach:
"Zainspirowany prawdziwymi wydarzeniami film jest niespotykan? mieszank? oryginalnej produkcji i prawdziwego heroizmu, ??cz?c w sobie wspania?e sekwencje pojedynków oraz najnowsze osi?gni?cia technologii. Fabu?a skupia si? na elitarnej grupie wyszkolonych wojowników (?o?nierze si? specjalnych ameryka?skiej marynarki wojennej - NAVY Seals), którzy spiesz?c na ratunek agentce CIA, odkrywaj? ?miertelny spisek terrorystyczny przeciwko USA. Wys?ani w ró?ne zak?tki ?wiata: Czechy, Filipiny, Ukraina, Somalia, staraj? si? powstrzyma? skoordynowany atak, zagra?aj?cy ?yciu tysi?com ameryka?skich cywilów. "
Dzisjaj uda?o mi si? obej?e? Act of Valor i powiem szczerze, ?e jednak Filmweb troch? si? rozjecha? z tym opisem. Jako? nie zauwa?y?em ?eby ?o?nie?e wys?ani byli na Filipiny, Ukrain? czy do Czech. Akcja dzieje si? na terenie kilku krajów tj. id?c od pocz?tku, USA, FILIPIN, WENEZUELI, UKRAINY, SOMALII, MEKSYKU.
Akcja filmu g?ównie odbywa si? w okolicach Stanów Zjednoczonych i Meksyku. Ale po kolei.
Film zaczyna si? pi?knym skokiem treningowym cz?onków dru?yny Seal 7. Zaraz po tym akcja momentalnie przenosi si? na Filipiny gdzie dochodzi do zamachu terrorystycznego w którym ginie oficjel rz?du USA i maaasa dzieci. W tym samym czasie wywiad USA namierza Mikhaila Troykavicha na terytorium bodaj?e Wenezueli. CIA ma tam swoich agentów, jednak gdy jeden z nich zastaje zabity a drugi a raczej druga uprowadzona wys?any zostaje oddzia?, który ma j? odbi?. Ch?opcy pi?knie ubrani w Milticam z pomalowanymi twarzami wyruszaj? odbi? Miss Agent. Cudowny sprz?t, bardzo ?adne uj?cia nie tylko technologii militarnej (?mig?owców, motorówek itp) ale i przyrody otaczaj?cej komandziochów dope?nia obrazu, który jak na razie robi na mnie niez?e wra?enie.
Oczywi?cie akcja musi zosta? przyspieszona i nasz dzielny oddzia? nie ma czasu czeka? a? dop?ynie wsparcie. Rozpoczyna si? praca Pana Snipera, który pi?knie zamiata z?ych ?obuzów. Reszta wpada do budynków szuka? uprowadzonej. Oczywi?cie jaki? okropny Don Pedro zauwa?a bohaterów i rozpoczyna si? strzelanina. Jeden z dobrych obrywa w twarz reszta zaczyna m?uci? i czy?ci? teren. ZAk?adniczka odbita i przy okazji znajduje si? komóreczka, która jak si? za jakie? kilkana?cie minut oka?e ma dane o których rz?d czy te? wywiad USA nie mia? poj?cia.
Jako, ?e grupa ewakuacyjna troch? si? spó?nia komandziochy rozpoczynaj? podró? za po?rednictwem starej zdrzelowanej pó?ci??arówki. Oczywi?cie prawie z nieba pojawiaj? si? 3 wrogie pickupy wypchane po brzegi zbójami. Wymiana ognia, ?wiszcz?ce kule i ... droga która ko?czy si? w rzece. Ju? wiadomo jaki los czeka uciekinierów a tu nagle podp?ywaj? pi?kne ?odzie motorowe i siej? z Vulcana ile fabryka da?a. Tym sposobem uda?o si? odbi? zak?adnika bez wi?kszych strat w?asnych (1 ranny).
Pomy?la?em sobie nooooo, na razie nie?le ale zobaczymy co dalej...
A dalej ju? tylko lepiej. Nie chc? Wam streszcza? filmyu bo naprawd? zach?cam do obej?enia. To co mi si? spodoba?o to jak wspomnai?em wcze?niej niez?e zdj?cia. Uj?cia z lec?cego drona czy ma?ego samolociku do sprawdzania przedpola, niez?e zdj?cia przyrody czy sprz?tu i to co mo?e troszk? upodabnia? film do gier FPP uj?cie z oczu operatora wysz?y na prawd? nie?le.
Smaczku dodaje fakt, ?e w produkcji filmu brali faktycznie udzia? prawdziwi SEAL'si. Dodatkowym atutem jest bardzo ?adnie pokazana praca teamu. Formacja podczas podchodzenia do miejsca akcji, ?wietna praca dwójkami te? wed?ug mnie wypada fajnie. Co prawda nie jestem jakim? wielkim znawc? ale powiem szczerze, ?e wygl?da to naprawd? realistycznie. Kolejnym atutem filmu uwa?am jest obsadzenie w g?ównych rolach niezbyt znanych aktorów. Dzi?ki temu wysz?o to mu na dobre i nie zrobi?a si? typowa papka z Hollywood. Co prawda film nie by?by ameryka?ski gdyby nie by?o odrobin? heroizmu i po?wi?cenia ponad wszystko ale to ju? mówi tytu?, który po naszemu brzmi bodaj?e "Cena Odwagi".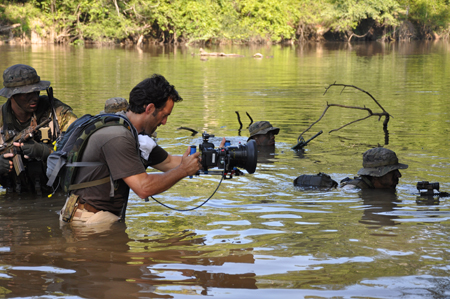 Podsumowuj?c szczerze polecam bo jest to kawa?ek fajnego kina nazwijmy to wojennego. Co prawda nie jest to taki hit jak "Black Hawk Down" ale my?l?, ?e wielu osobom si? spodoba. Ja od siebie da?bym mu 8/10 bo te prawie 2 godziny strzeli?y mi jak z bata podczas ogl?dania a to ju? ?wiadczy nie?le.
Dla zainteresowanych trailer: