OPERACJA WSCHÓD & DIAMENTOWA WOJNA II
RELACJA
ParQs - wspó?za?o?yciel stowarzyszenia KOALICJA WSCHÓD. Specjalizacja: informacje ze ?wiata ASG, relacje, newsy, projektowanie graficzne.
W marcu teamy Koalicji Wschód zorganizowa?y dwa wi?ksze scenariuszowe spotkania.

Pierwsze z nich "Operacja Wschód" odby?o si? w dniu 18.03.2012 na cz??ci terenu nale??cego do by?ego lotniska wojskowego w Bia?ej Podlaskiej. Team koalicyjny "K?os" przy wspó?udziale i pomocy innych grup z regionu zorganizowa? fajne spotkanie zako?czone integracj? przy ognisku.
Wst?p do scenariusza wygl?da? nast?puj?co:
"18.03.2011r Wiadomo?? z ostatniej chwili. Arabska telewizja Al-D?azira poda?a, ?e dosz?o do katastrofy lotniczej w odleg?o?ci 20km od ameryka?skiej bazy "Victory". Samolot Cessna 172 rozbi? si? po ostrzale ameryka?skiego patrolu który uzna? go za zagro?enie dla bezpiecze?stwa ?o?nierzy. Na razie nie wiadomo czy kto? prze?y? katastrof?. Na miejsce uda? si? oddzia? ratunkowy. Wi?cej wiadomo?ci ju? wkrótce''
Przyby?y na miejsce oddzia? wojsk Koalicji odnajduje jedyn? ocala?? z katastrofy osob? – pilota. Ów nazywa si? Christoph Stiglitz i jest by?ym pilotem niemieckich si? powietrznych Luftwaffe, lataj?cy z ró?nym szmelcem na pok?adzie dla tego, kto wi?cej zap?aci. Widz?c oddzia? koalicji, pilot – najemnik wpada w panik?. W zamian za obietnic? wypuszczenia na wolno?? przekazuje ?o?nierzom informacje, o porzuconym w okolicy cennym ?adunku. Po dok?adniejszym przepytaniu zdradza, ?e podczas ostrza?u, jego kompan wyrzuci? z samolotu 3 skrzynki. Wyrzucaj?cym okaza? si? Muhammad Hamza Zubeidi jeden z g?ównych, nie z?apanych dotychczas popleczników Saddama. Po kontakcie z baz? oddzia? dostaje rozkaz odnalezienia skrzynek.
"SKRZYNKI POD ?ADNYM POZOREM NIE MOG? SI? DOSTA? W ?APY REBELIANTÓW" – mówi gen. Mc. Neel
"Nie zdradz? im od razu lokalizacji walizek. Ju? raz mnie kiedy? zrobili w wa?a. Jeszcze mnie zostawi? na tym zadupiu i z?api? mnie te brudasy. Albo, co bardzo prawdopodobne… ech. Poza tym w jednym z tych kuferków byla moja zap?ata za ten nieszcz?sny lot i zamierzam osobi?cie dopilnowa?, ?eby bezpiecznie do mnie wróci?a" Ch. Stiglitz.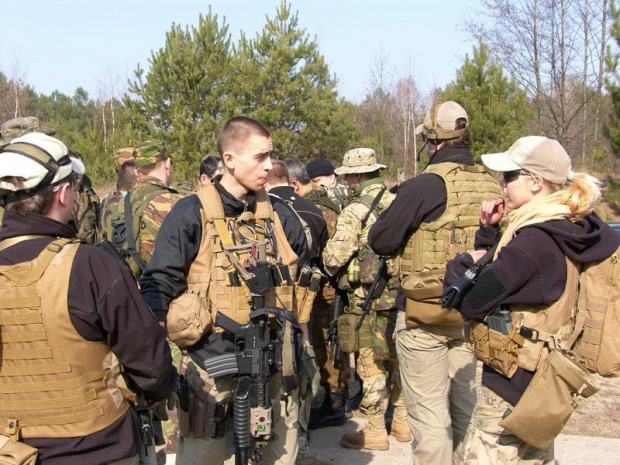 Pogoda na spotkaniu dopisa?a, jak równie? frekwencja uczestników.
Scenariusz wygra?y oddzia?y Koalicji osaczaj?c rebeliantów w budynku. Nie mog?c skutecznie wyprowadzi? ataku wojska rebelianckie zosta?y zmuszone do z?o?enia broni. Tym samym scenariusz dobieg? ko?ca.
Teren "Operacji Wschód" spe?ni? wszystkie pok?adane w nim nadzieje. Zró?nicowany w ukszta?towaniu oraz zalesieniu, pozwala? na prowadzenie walki w bliskim zwarciu, jak te? na wi?ksz? odleg?o??.
Nie oby?o si? bez drobnych nieporozumie?, ale bior?c pod uwag? czas, w którym spotkanie zosta?o zorganizowane, nie przynios?o to ujmy organizatorom. Mamy nadziej?, ?e ka?de nast?pne spotkanie, b?dzie na coraz wy?szym poziomie, a uczestnicy b?d? równie dobrze lub nawet lepiej je wspomina?.


Drugie spotkanie odby?o si? w okolicach Bia?egostoku w dniu 25.03.2012. By?a to druga edycja "Diamentowej Wojny" organizowanej przez Wa?ka z teamu Sandpoint P.M.C. . W tym roku DW po raz pierwszy znalaz?o si? pod kuratel? "Koalicji Wschód".



Wst?p do scenariusza "Diamentowej Wojny II":
Wojna domowa w Sierra Leone po 10 latach walk zako?czy?a si? w 2002 roku. Po interwencji si? zbrojnych Wielkiej Brytanii podczas "Operacji Palliser" ewakuowano obywateli zagranicznych a dzi?ki staraniom wojsk oddano w?adz? w r?ce rz?du. Od czasu jej zako?czenia sytuacja polityczna w Sierra Leone by?a stabilna. Ugrupowania rebelianckie si? rozbroi?y, a ich przywódcy wzi?li udzia? w wyborach i uczestniczyli w ?yciu politycznym kraju. Byli rebelianci, którzy nie potrafili si? znale?? w nowej rzeczywisto?ci b?d? nie znale?li pracy, odpowiadaj? za drobn? przest?pczo?? i napady rabunkowe.
Sytuacja wygl?da?a tak do czasu gdy byli przywódcy RUF targani chciwo?ci? i ch?ci? wzbogacenia skrycie przej?li kontrol? nad z?o?ami surowców przynosz?cych pot??ne pieni?dze. Wykorzystuj?c sw? w?adz? polityczn? i szacunek w?ród by?ych rebeliantów zorganizowali oni nowy front i podwaliny nowej organizacji rebelianckiej. Rozp?ta?a si? kolejna wojna domowa. Nazwana Drug? Wojn? Diamentow?.
Strona rz?dowa wypowiedzia?a wojn? buntowniczej organizacji przy wykorzystaniu swych wojsk Republic of Sierra Leone Armed Forces (RSLAF) "Si? Zbrojnych Republiki Sierra Leone" w skrócie RSLAF. Jednocze?nie prezydent Ernest Bai KOROMA poprosi? o wsparcie si? NATO.
Odpowied? NATO by?a oczywista "Nie popieramy terrorystycznych dzia?a? przywódców organizacji rebelianckiej RUF". Lecz NATO wspar?o dzia?ania rz?dowe ma?ymi si?ami g?ównie w postaci doradców i specjalistów Si? Specjalnych. By?o to spowodowane tym i? zachodnie wojska by?y skupione na dzia?aniach w innych konfliktach a sytuacja w Sierra Leone nie nale?a?a do ich priorytetów.
Wojna jest droga a w tym wypadku wojna toczy?a si? wy??cznie o pieni?dze. Front przeniós? si? na tereny z?ó? i kopalni diamentów oraz równie? bardzo dochodowych kopalni rudy tytanu. Kto zdob?dzie w?adz? nad kopalniami ten wygra wojn?.


Spotkanie wygra? RUF (na punkty) po bardzo wyrównanej walce.
Poziom spotkania by? wysoki, a gracze po obu stronach konfliktu, mi?o wspominaj? uczestnictwo. Scenariusz by? ciekawie u?o?ony, a zako?czenie daje mo?liwo?? ciekawej kontynuacji w przysz?ym roku. Jednym z minusów imprezy by? brak fotografa, który uwiecznia?by zmagania graczy.


Opis spotkania w formie fabularnej:

Ja by? Mugabi, ja s?abo mówi? i pisa? po Polski. Postara? si? jednak przybli?y? histori? konfliktu, który zna? wszyscy jako "Diamentowa Wojna 2".
Mój przyjaciel Daniel przys?a? mi moj? histori?, poprawion?: napisa? on trudne s?owo "zredagowan?", znaczy chyba teraz by? dobra. Zapraszam do przeczytania.

Jak co rano poszed?em do byd?a by je oporz?dzi?, moja ?ona razem z dzie?mi posz?a do studni po wod?. Do najbli?szego uj?cia mamy prawie 4km. Dobrze, ?e s?o?ce jest jeszcze nisko, gdy? praca w ?rodku dnia jest prawie niemo?liwa z powodu lej?cego si? z nieba ?aru. Jest nas we wsi 6 rodzin. W jeszcze w zesz?ym roku by?o 20, a nasza wie? by?a uwa?ana za jedn? z wi?kszych w tym regionie. Posiadali?my dzi?ki pomocy UNICEFu wodoci?g, dzi?ki któremu wod? czerpali?my bez potrzeby codziennych w?drówek. Gwo?dziem do trumny dla ca?ego regionu okaza?a si? wojna domowa. Poch?on??a wiele istnie? oraz zniszczy?a to, co nazywali?my spokojem. N?kali nas i jedni, i drudzy. M??czyzn z naszej wsi zrekrutowali lub w razie oporu zabili. Kobiet równie? nie oszcz?dzano, gwa?ty i zabójstwa by?y na porz?dku dziennym. Dzieci zabrali rebelianci, widzia?em jak zmuszali je do zabijania czyni?c z nich bezmy?lnych i bezlitosnych ?o?nierzy. Ja prze?y?em, mimo postrzelenia i wrzucenia do do?u ?mierci. Nie wiem, który Bóg czuwa? nade mn?, ale da? mi mo?liwo?? pogrzebania moich bliskich. Z czwórki dzieci zosta?o mi tylko dwoje, ?ona pomimo zgwa?cenia i oszpecenia twarzy, nadal ma wol? prze?ycia. Moi rodzice zgin?li zad?gani dla zabawy w?óczniami. Jeszcze wczoraj my?la?em, ?e to ju? za nami, rzeczywisto?? okaza?a si? jednak inna.


Na po?udniu znów zacz??y si? tworzy? oddzia?y rebelianckie. Prezydent poinformowa? o naborze rekrutów maj?cych na celu wzmocni? si?y walcz?ce po stronie rz?du. Mamy przewag?, gdy? wspieraj? nas oddzia?y NATO - co prawda nieliczne, ale dobrze wyposa?one. Pami?taj?c to, co zasz?o poprzednim razem, postanowi?em zg?osi? si? na ochotnika.
W przeddzie? wyjazdu odwiedzi? nas w koszarach Prezydent. Wida? by?o zm?czenie rysuj?ce si? na jego twarzy, lecz oczy p?on??y niczym ognie piekielne. Zagrzewa? nas do walki, mówi?, ?e walczymy nie tylko o zasoby naszego kraju, które chc? przej?? rebelianci, ale te? o wolno?? i bezpiecze?stwo dla naszych rodzin. Tylko od nas zale?y, czy przetrwamy jako wolny naród bez jarzma bandyckich wata?ków. Prezydent zapowiedzia? , ?e osobi?cie pokieruje walkami, pomimo ostrze?e? doradców, którzy bali si? o jego bezpiecze?stwo. Po przemówieniu za?adowano nas na ci??arówki, celem by?o zapewnienie bezpiecze?stwa kopalniom znajduj?cym si? na po?udniu kraju.

Obóz rozbili?my na ruinach ?redniowiecznej fortecy. Ja znalaz?em si? w pierwszym oddziale zwiadowczym, który mia? za zadanie uda? si? do kopalni numer "1" i sprawdzi?, czy nic jej nie zagra?a.

Po przybyciu na miejsce, naszym oczom ukaza? si? przygn?biaj?cy widok. Obs?uga kopalni uciek?a na wie?? o zbli?aj?cych si? rebeliantach. Porzucone maszyny wydobywcze oraz ubrania i rzeczy osobiste pozostawione przez pracowników kopalni ?wiadczy?y w jakim po?piechu opuszczali to miejsce. Po obstawieniu kopalni wartami poinformowali?my dowództwo o sytuacji. Okaza?o si?, ?e pozosta?e patrole zasta?y ten sam widok w kopalni "2" i "3". Dostali?my rozkaz zabezpieczy? kopalnie i czeka? na dalsze rozkazy. Z okolicznej wsi przybyli mieszka?cy, którzy wcze?niej pracowali w tym miejscu, dzi?ki temu mo?na by?o ruszy? z wydobyciem.

Dzie? d?u?y? si? niemi?osiernie. W radiu s?yszeli?my, ?e patrol napotka? rebeliantów w kopalni numer "4". Wywi?za?a si? walka, przez co nasze si?y musia?y si? wycofa? do miejsc ju? zabezpieczonych. S?yszeli?my tak?e o ma?ych oddzia?ach rebelianckich n?kaj?cych pozosta?e kopalnie, u nas na szcz??cie by? spokój. W pewnym momencie dostali?my meldunek, ?e po naszej stronie znalaz? si? oddzia? ameryka?skich najemników. Dowództwo przydzieli?o im jeden z naszych oddzia?ów i nakaza?o zdoby? "4" kopalni?. Najemnicy okazali si? jednak zbyt s?abi by nawi?za? równorz?dn? walk? z obsad? zaj?tej kopalni. Wielu z nich zgin??o, na szcz??cie jednak ?aden z towarzysz?cych im naszych braci nie zgin??. Pozostali przy ?yciu najemnicy wycofali si? do naszej g?ównej bazy.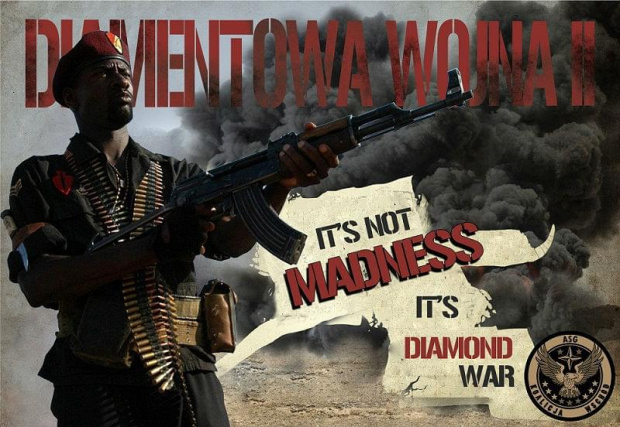 Dosz?a nas wie??, ?e do prezydenta ma przyby? jeden z ameryka?skich dostawców broni. Do zabezpieczenia trasy przejazdu prezydent naj?? najemników oraz dodatkowo zabezpieczy? kilkoma zaufanymi lud?mi. Na niewiele si? to zda?o, po raz kolejny rebelianci okazali si? silniejsi ni? si? spodziewali?my. VIP zosta? zabity, a wraz z nim zgin?li wszyscy towarzysz?cy mu ?o?nierze z obstawy. Prezydent wpad? w z?o??, gdyby nie jego doradca zacz??by strzela? do wszystkich w oko?o.

To nie by? jednak koniec naszych niepowodze?. Dosz?a nas wie??, ?e kopalnia nr "3" wpad?a w r?ce wroga. Rebelianci nie oszcz?dzili nikogo. Rannych torturowali, a pó?niej ucinali g?owy. Nasz zwiad doniós?, ?e na umocnieniach kopalni nr "3" widzia? g?owy nabite na dzidy.


Prezydent zebra? rezerwowe oddzia?y i wys?a? okr??n? drog? w celu zdobycia g?ównej bazy wroga oraz zabicia przywódcy rebeliantów. Pozwoli?oby to na szybkie zako?czenie konfliktu i tym samym na ko?cowe zwyci?stwo. Jeden z naszych oficerów mówi? pó?niej, ?e prezydent liczy? na to i? wi?kszo?? si? wroga zwi?zanych jest walk? przy kopalni nr "4".
Pozbycie si? rezerw z bazy g?ównej, a tym samym ods?oni?cie ty?ów okaza?o si? b??dem krytycznym.
W kopalni "1" nudzili?my si? niemi?osiernie. W?ród nas zapanowa?o rozpr??enie. Ka?dy szuka? cienia, niektórzy drzemali, inni grali w karty. W pewnym momencie podsypiaj?cy radiooperator zerwa? si? na równe nogi i zacz?? krzycze?. Okaza?o si? ?e wróg zaatakowa? nasz? g?ówn? baz?, doradca prezydenta nada? meldunek wzywaj?cy do pomocy. Po chwili kontakt si? urwa?.
To by?o jak kube? zimnej wody, wszyscy rwali?my si? do walki. Wszystkie jednostki b?d?ce poza baz? us?ysza?y rozpaczliwe wezwanie do pomocy. Nasi oficerowie przegrupowali si?y i po ?ci?gni?ciu oddzia?ów z kopal?, pomaszerowali?my do bazy g?ównej.

Odbili?my j? po krótkiej walce. Prezydent ?y?, ale by? ranny i nieprzytomny. Po zaopatrzeniu uda?o si? go docuci?. Nasz oddzia?owy medyk stwierdzi? obecno?? dwóch postrza?ów. Jeden urwa? kawa?ek ucha i rozci?? skór? na policzku, druga kula trafi?a prezydenta w bark, przebijaj?c go na wylot.
Prezydent powiedzia?, ?e b?dzie dalej dowodzi? pomimo odniesionych ran. Skontaktowa? si? z oddzia?em najemników i wynaj?? ich do pomocy. Nasze oddzia?y wys?a? do ponownego zabezpieczenia kopalni. Najemnicy razem z cz??ci? naszych wojsk mieli odbi? kopalni? nr "3".


Mimo tylu niepowodze?, nasze oddzia?y zmotywowane postaw? prezydenta oraz przepe?nione nienawi?ci? za ?mier? naszych towarzyszy, ruszy?y do boju, odbijaj?c ka?dy zaj?ty przez rebeliantów kawa?ek terenu.
Przed noc? razem z kolegami zdobyli?my g?ówn? baz? wroga. Nie uda?o si? jednak zabi? ich przywódcy. W chwili przej?cia przez nas ich bazy schowa? si? w latrynie stoj?cej przy lesie i korzystaj?c z chwilowej nieuwagi mojej i moich kolegów, uciek? chy?kiem w las.

Dzie? zako?czyli?my b?d?c w posiadaniu 4 kopalni oraz 2 baz. Nie wiem co przyniesie jutro, ale perspektywy s? dobre. B?dziemy ?ciga? rebeliantów, a? wyt?uczemy ich co do jednego. Nie pozwolimy na przej?cie przez nich w?adzy w naszym pa?stwie. Mo?e za kilka lat b?d? móg? z dum? odpowiedzie? na pytanie: gdzie by?e? w czasie drugiej wojny diamentowej?
BY?EM W SAMYM ?RODKU, ZABIJA?EM BY?CIE WY MOGLI ?Y? W BEZPIECZNEJ OJCZY?NIE I ZWYCI??Y?EM.


Jako "Koalicja Wschód" do?o?ymy wszelkich stara? by organizowane przez nasze teamy lub cz?onków spotkania by?y jak na najwy?szym poziomie. Wesprzemy ka?dy ciekawy pomys? oraz inicjatyw?. Wspomo?emy logistyk?, sprz?tem i prac? w?asnych r?k.

Zapraszamy
Daniel "ParQs"
W imieniu "Koalicji Wschód"