Krzysztof - pasjonat survivalu i w?drówek z plecakiem. Dawniej zwi?zany z organizacj? Strzeleck?. Autor: www.abc-survival.pl

Na rynku, mamy do wyboru setki, je?li nie tysi?ce plecaków. Jak w?ród nich znale?? ten najlepszy? W tym artykule dowiesz, si? czym si? sugerowa?, przy zakupie plecaka, na co zwraca? uwag?, a co lepiej od razu sobie odpu?ci?.
Jaki plecak wybra? w góry, na w?drówki, do lasu?
Na pocz?tku musisz odpowiedzie? sobie na pytanie, do czego plecak ma Ci s?u?y?. Czy na krótkie wypady do lasu, na jednodniowe w?drówki po górach (bez nocowania), na dwu dniowe w?drówki lub d?u?sze wypady?
Gdy ju? wiesz, do czego plecak ma Ci s?u?y?, pora ?eby? odpowiedzia? sobie co b?dziesz w nim nosi?. Je?eli tylko wod?, jedzenie, peleryn? i mapy – nie potrzebujesz wi?kszego plecaka ni? 30 litrów. Je?eli zamierzasz troch? maszerowa? po górach i spa? w schroniskach do plecaka musi si? zmie?ci? ?piwór, wy?ywienie, mapy ogólnie – max 50 litrów. Je?eli planujesz d?u?sze wycieczki, z obozowaniem na dziko, b?dzie Ci ju? potrzebny plecak od 80 do 100 l pojemno?ci, ze stela?em, pasem biodrowym i na klatk? piersiow?.
Ma?y spis tre?ci:
Co plecak musi mie??
W przypadku plecaków do 30 litrów, plecak koniecznie powinien mie? pas na klatk? piersiow?. Dzi?ki temu ?atwiej si? go niesie, a podczas biegu praktycznie si? go nie czuje – biegn?c z plecakiem, który trzyma si? na samych ramionach, plecak skacz? i utrudnia bieg – wed?ug mnie bieg z 5kg lu?nym plecakiem, mo?na przyrówna? do biegu z 30kg plecakiem, którzy dobrze trzyma si? pleców (zawsze zapinaj plecak tak, by zamki by?y po prawej, albo lewej stronie – w ten sposób, plecak nie otworzy si? podczas biegu). Przydatnym gad?etem, jest posiadanie specjalnej kieszonki na telefon na ramieniu plecaka – ot takie przydatne rozwi?zanie. Wa?ne równie?, by materia? nie poddawa? si? od razu wodzie – taki plecak jest do niczego! W przypadku plecaków wi?kszych – 50 – 100 litrowych, wa?ne by plecak posiada? pas biodrowy. Czemu?
Ca?a sztuka w noszeniu plecaka, polega na przeniesieniu jego ci??aru, z pleców, na biodra – tam stawy i mi??nie s? wytrzymalsze i silniejsze. Pas biodrowy idealnie spe?nia t? rol?.
Regulacja
Plecak musi mie? regulowane elementy. Mo?esz by? bardziej umi??niony lub mniej, mo?esz mie? szersze ramiona lub nie, wa?ne by ka?dy pasek w Twoim plecaku mia? regulacj? – dzi?ki temu, ?atwiej dostosujesz go do swoich potrzeb. Istotne jest by plecak mia? pas piersiowy - nawet w przypadku ma?ych plecaków. Dzi?ki temu ci??ar plecaka, lepiej si? rozk?ada, a sam plecak ?ci?lej przylega do pleców. W przypadku wi?kszych plecaków konieczny jest pas biodrowy, dlaczego znów poruszam t? kwesti?? Wa?ne s? zaczepy, najlepiej gdyby by?y nie metalowe - jest to rzadko spotykane zapi?cie, poniewa? - jest ci??sze od plastiku, oraz w zim? mo?e by? ci??ko je odpi?? - pami?taj, ?e przy -20 dotykaj?c go?? skóra metalu, d?o? si? przyklei! W plecakach z wy?szych pó?ek, mo?esz spotka? klamry wykonane ze stopów metali lekkich. Spotka?em, si? z opini?, ?e je?eli plecak posiada plastikowe klamry nie nadaje si? do niczego - ja niestety nie mog? tego potwierdzi?. Osobi?cie posiadam Zasobnik Piechoty Górskiej, przeszed?em z nim Tatry (w plecaku mia?em 21kg) i nic si? nie uszkodzi?o.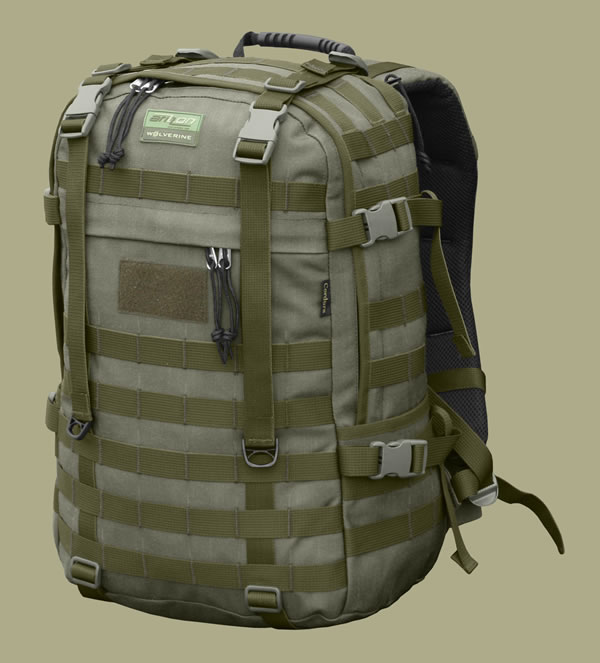 Uchwyty i miejsca zaczepienia
Im wi?cej plecak ma ró?nych uchwytów, i miejsc do których mo?na przywi?za? sznurek, tym lepiej. Dzi?ki temu do plecaka zawsze mo?esz co? przywi?za? lub doczepi? – pami?taj, aby taki przedmiot nie dynda? swobodnie – podczas marszu czy biegu, jego ruch zabiera du?o Twojej energii. Najcz??ciej do plecaków dopina si? karimaty i kamelbagi - rzadziej ?piwory. Warto, ?eby? zwróci? uwag?, czy istnieje mo?liwo?? przyczepienia karimaty pionowo, dlaczego? Wiele plecaków, posiada uchwyty na karimaty mieszcz?ce si? na samej górze, lub dole plecaka. Je?li przypniemy karimat?, poziomo - b?dziemy ni? o wszystko haczy? - ska?y, drzewa, krzaki - przez co karimata szybko ulegnie zniszczeniu.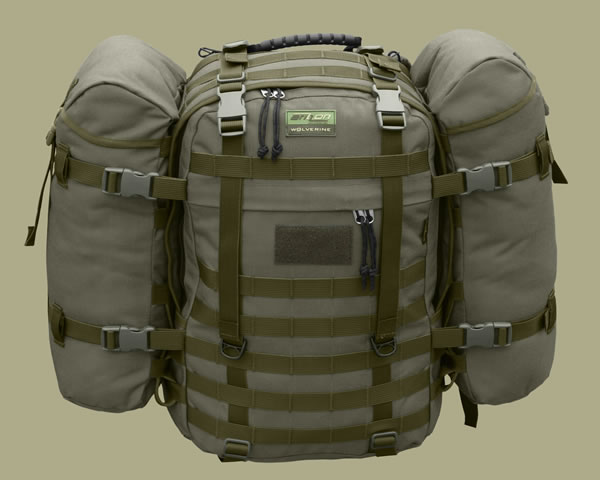 Kieszenie i przegródki
Tutaj trzeba zachowa? równowag?, plecak bez kieszeni i przegródek jest niczym worek, panuje w nim chaos i ba?agan. Z kolei je?eli plecak posiada zbyt wiele kieszeni i przegródek, mo?e do?? do sytuacji, w której jaki? przedmiot Ci si? nie zmie?ci, z powodu braku odpowiedniej kieszonki. Mo?e równie? doj?? do ?miesznej sytuacji, w której zadasz sobie pytanie: Kubek schowa?em w 3 po lewej, czy w 5 po prawej kieszeni. Kieszenie, które plecak powinien mie? obowi?zkowo to: jaka? górna kiesze? na wierzchu plecaka, do której mamy ?atwy dost?p - tam chowamy np. map?, aparat latark?, czy podr?czne jedzenie. Wa?ne, by plecak równie? w ?rodku mia? jedn? kiesze? - cz?sto jest to kiesze? wisz?c? - dzi?ki niej dokumenty (chocia? ja zawsze nosze je przy sobie w woreczku) lub inne wa?ne rzeczy, nie b?d? przewala?y si? po ca?ym plecaku. Ciekaw? kwesti?, jest równie? system komór, o co chodzi? Otó?, w moim plecaku s? trzy miejsca, w których plecak si? otwiera (od do?u, od góry i od ?rodka). Wewn?trz plecaka, ka?de z tych miejsc, mo?emy oddzieli? materia?em - co nam to daje? Je?eli u?ywa?e? kiedy? plecaka jednokomorowego, zdarzy?o Ci si? zapewne, ?e po?o?y?e? to na górze, a po kilku godzinach marszu, znalaz?e? to na dole swojego plecaka - dzi?ki zastosowaniu systemu komór, rzeczy s? w tym samym miejscu, co znacznie u?atwia ich znalezienie.
Stela?
W plecakach powy?ej 50 litrów, jest bardzo przydatny – dzi?ki niemu plecak dobrze si? trzyma na pasie biodrowym, a nawet ?le u?o?one rzeczy, nie naciskaj? Ci na plecy. Obecnie stela?e, s? specjalnie profilowane, w ten sposób by zapewni? plecom wymian? ciep?a z otoczeniem – mi?dzy plecami, a plecakiem powinno by? troszeczk? wolnego miejsca. Do wyboru masz plecaki ze stela?em wewn?trznym oraz zewn?trznym. Stela? wewn?trzny jest zazwyczaj l?ejszy i u?atwia pakowanie, a stela? zewn?trzny lepiej rozk?ada i przenosi ci??ar plecaka, jednak utrudnia marsz przez zaro?la - krzaki i drzewa si? o niego zaczepiaj?.
System zamykania
Wa?ne, by ka?d? komor? mo?na by?o ?ci?gn?? sznurkiem (dzi?ki temu podczas deszczu, plecak d?u?ej opiera si? wodzie), istotne by plecak mia? proste ale solidne zapi?cia – np. typowe klipsy, dzi?ki temu mo?esz go otworzy? nawet w r?kawiczkach. Na forach internetowych, mo?na spotka? wiele opinii na temat tych plastikowych zatrzasków - zdarzaj? si? egzemplarze wadliwe, oraz s?absze - wtedy trzeba wymieni? je na solidniejsze. Nie kupuj tych zatrzasków u krawcowej, czy w osiedlowym sklepu - s? one wykonane ze s?abej jako?ci plastiku, nie przystosowanej do u?ytku w plecakach. Lepiej udaj si? do sklepu alpinistycznego i tam zrób niezb?dne zakupy.
Miejsce otwarcia
Typowe ma?e plecaki, otwieraj? si? tylko od góry – w du?ych plecakach staje si? to uci??liwe. Je?eli chcesz wyj?? ?piwór z samego do?u musisz przegrzebywa? ca?y plecak, zarówno przy wyci?ganiu jak i wk?adaniu ?piwora. Dlatego wybierz plecak, który mo?na otworzy? równie? od do?u. Niektóre plecaki mo?na jeszcze otworzy? od ?rodka, co te? jest dobrym rozwi?zaniem.
?atwo?? naprawy
Jest to ostatnia ju? cecha, któr? plecak mie? powinien. Je?eli podczas marszu urwie Ci si? zamek, albo rami? musisz je naprawi? – ?atwiej to zrobi? w plecaku, który ma du?o sznurków i miejsc zaczepienia.
Materia?
Du?? rol?, w wytrzyma?o?ci plecaka odgrywa materia? oraz szwy. Ale po kolei. Najcz??ciej u?ywanym materia?em, w plecakach z tzw. "?redniej pó?ki" jest cordura - materia? ten jest odporny na typowe przy u?ytkowaniu, otarcia i przetarcia. W dro?szych modelach, plecak wykonuje si? z endury - podobny, nie tylko z nazwy, ale tak?e z w?a?ciwo?ci, jednak bardziej odporny na wod? i uszkodzenia mechaniczne. Có? jednak z tego, ?e plecak b?dzie wykonany z wysoko gatunkowego materia?u, je?eli szwy b?d? s?abe? Dlatego najlepsze s? szwy potrójne, dodatkowo obszyte lamówkami.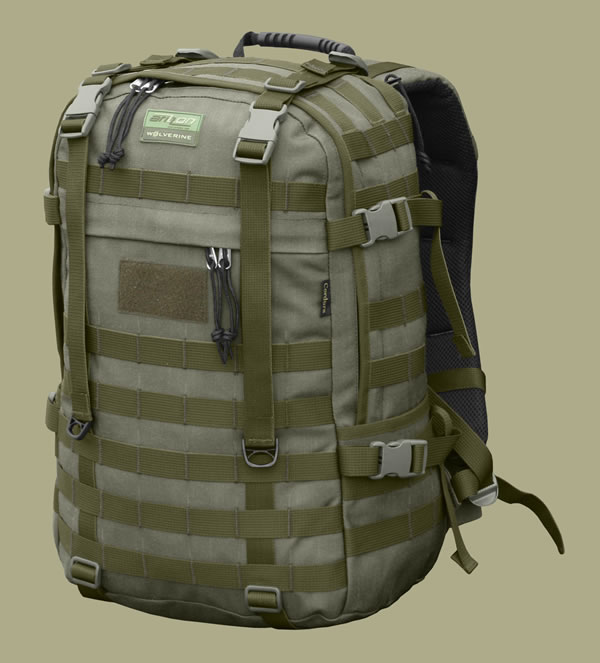 Firma
Na pewno, chcia?by? w tym miejscu przeczyta?, ?e ta i ta firma jest najlepsza i t? Ci polecam - niestety, nie mog? tak napisa?. Dlaczego? Nie zale?nie od firmy, czy to Alpinus, czy Campus, Paj?k czy Paso, zdania s? bardzo podzielone. Jedni chwal?, inni krytykuj? - mówi? tutaj o rozmowach z u?ytkownikami, obs?uga w sklepie zawsze zachwala. Wydaje mi si?, ?e wszystko zale?y od tego, jak dana osoba obchodzi si? z plecakiem, oraz od tego jak plecak jest wykonany - czasem zdarzaj? si? ?le wykonane egzemplarze. S?dz? jednak, ?e je?eli kupicie plecak jednej ze znanych firm, nie b?dziecie ?a?owa?, ja np. zaufa?em mniej znanej firmie Paso i jestem bardzo zadowolony z zakupu.
Przegl?daj?c fora internetowe, spotka?em si? z bardzo du?? ilo?ciom komentarzy, mówi?c? o tym, ?e plecaki s? ma?o solidne, a ludziom psu?y si? rzeczy, które psu? si? nie powinny (np. ?rodkowe zewn?trzne zapi?cia, na które nie dzia?a ?adna si?a!). Dlatego w najbli?szym czasie, nagram filmik jak si? pakowa? i obchodzi? z plecakiem - tak by pos?u?y? Ci jak najd?u?ej!
?ród?o: www.abc-survival.pl