Ankieta
Czy jeste? zwolennikiem u?ywania magazynków typu:
Real/Low/Mid-Cap
86% [149 głosów]
Hi-Cap
14% [24 głosy]
Ogółem głosów: 173
Musisz zalogować się, aby móc zagłosować.
Rozpoczęto: 11.01.11
Archiwum ankiet
Słoneczny panel
Dziś jest:
Wschód słońca:
7:09
Zachód słońca:
16:02
Dzień trwa:
8
Godzin
53
minut
Jest krótszy od najdłuższego dnia o: 9:40
Jak spakowa? oporz?dzenie osobiste oraz plecak?

Na podstawie postu
Majora Stopczyka

Oporz?dzenie jest dla ?o?nierza drug? skór?, w nim chodzi, biega, siedzi, je a czasem ?pi. Oporz?dzenie mo?emy kompletowa? wed?ug:

- polecenia prze?o?onego
- obowi?zuj?cych wytycznych
- w?asnego uznania

Ze wzgl?dów oczywistych poruszam tylko ostatni aspekt.

Na co zwróci? szczególn? uwag??





Zdj?cie Yaro FotoTeam



Kompletuj?c oporz?dzenie nale?y dostosowa? je do specyfiki zadania. W tym celu odpowiedzie? musimy sobie na pytania:



co?
gdzie?
jakimi ?rodkami?
jak d?ugo?



Nale?y stosowa? zasad? minimalnego obci??enia. Tak wi?c je?li nie ma takiej wyra?nej potrzeby lub polecenia, nie dublujemy wyposa?enia zespo?owego. Zabieramy wy??cznie sprz?t niezb?dny do wykonania zadania.

Co jest najwa?niejsze?

Na polu walki bez jedzenia mo?emy przetrwa? tydzie?, bez wody przynajmniej dzie? - bez amunicji nie przetrwamy nawet pi?ciu minut.

Je?li mamy wolne miejsce, pakujemy tam amunicj?, je?li jeszcze gdzie? mimo to zostanie wolne miejsce to pakujemy tam amunicj?.

Nale?y zwróci? uwag?, ?e w warunkach krótkotrwa?ej misji, mo?na obni?y? dzienn? racj? kalorii. Wówczas organizm b?dzie czerpa? z zapasów wewn?trznych. Na d?u?sz? met? jest to jednak niedopuszczalne. Nale?y posiada? tak?e odpowiedni? ilo?? wody. Jeden a nawet dwa litry to za ma?o w momencie kiedy nie ma mo?liwo?ci jej uzupe?nienia. Jednakowo? nie nale?y zabiera? w teren hektolitrów wody, to jak noszenie drzewa do lasu (za wyj. warunków specyficznych). Jedn? ?elazn? racj? nosimy w oporz?dzeniu jako rezerw?.







Opatrunek osobisty umiejscawiamy dok?adnie tam, gdzie reszta. (ta zasada obejmuje wszystko co mo?na uzna? za standardowe wyposa?enie - wszyscy pakuj? wszystko w to samo miejsce)

Jak upina? oporz?dzenie?

W tym wypadku najwi?ksz? wygod? posiadaj? chyba u?ytkownicy kamizelek modu?owych, lecz jednocze?nie jest to rozwi?zanie dla starego wojska, które wie jak si? w tym wszystkim poupina?. Bowiem kluczowa jest dla nas dost?pno?? ekwipunku znajduj?cego si? na oporz?dzeniu. Oporz?dzenie nie mo?e tak?e kr?powa? ruchów.

Uwag? nale?y zwróci? na takie czynniki jak: eliminacja "podskakiwania" jego elementów, wyeliminowanie efektów d?wi?kowych oraz wizualnych (odblask / 5S ). W tym celu wykorzysta? mo?emy ta?m? izolacyjn? oraz farb? w aerozolu.

Drobne przedmioty mo?emy umocowa? do oporz?dzenia za pomoc? ta?my lub wyposa?y? je w "smycz" dopi?t? do oporz?dzenia.

Po spakowaniu oporz?dzenia nale?y w nim pobiega?, poskaka?, poczo?ga? si?(!), spróbowa? z?o?y? sie do strza?u w ró?norodnych pozycjach. Nie wystarczy ubra? je i stan?? przed lustrem lub przebiec si? w te i nazad po korytarzu na kompanii!

Szelka oporz?dzenia po stronie dominuj?cej r?ki pozostaje wolna od jakichkolwiek zasobników! Kieszenie w kamizelkach, które znajduj? si? nad ?adownicami nie mog? by? ani umieszczone ( w kamizelkach modu?owych) ani wy?adowane tak by przeszkadza?y w wyjmowaniu magazynków z ?adownic.

Oporz?dzenie przy tym powinno by? tak skonfigurowane by?my obudzeni w ?rodku nocy od razu byli w stanie wyci?gn?? z niego zadany przedmiot, bez szukania go po zasobnikach i zastanawiania si?.

Radiooperator przechowuje kody w jednym, znanym wszystkim miejscu.







Nie nale?y zabiera? ze sob? dokumentów to?samo?ci, listów, zdj?? rodziny etc. Jak pokazuj? do?wiadczenie z Czeczeni i Iraku nie jest to wytyczna tylko dla oddzia?ów specjalnych.

Oporz?dzenie vs plecak.

Ostatnio zapanowa?a moda na kamizelki z dziesi?tkami zasobników w ka?dym miejscu. To nawet fajnie wygl?da ale nic poza tym. Bowiem po pierwsze ci??ko jest w?a?ciwie roz?o?y? ci??ar na takiej kamizelce oraz cz?sto ogranicza to ruchy. Po drugie w boju plecak mo?na zrzuci?/wypi?? w przeciwie?stwie do oporz?dzenia na którym mamy amunicj?, granaty i jeszcze kilka nieodzownych rzeczy. A jest subtelna ró?nica w mobilno?ci ?o?nierza maj?cego na sobie 25 i 50 kilogramów. Tak wi?c je?li potrzebujemy zabra? ze sob? du?o fantów, których nie b?dziemy musieli dobywa? w czasie kilkunastu sekund lub czas trwania zadania jest d?ugi i wymaga od nas d?ugiego okresu autonomiczno?ci - bierzemy plecak.

Nadto plecak ma t? zalet?, ?e mo?emy go w ka?dej chwili ?ci?gn?? i samemu wyci?gn?? potrzebny przedmiot, bez ?ci?gania ca?ego oporz?dzenia ani anga?owania w to kolegów. Je?li idziemy na kilkudniowy patrol i nie potrzebujemy du?ej ilo?ci specjalistycznego wyposa?enia, wybierzmy kamizelk? z zasobnikami lub plecak patrolowy. To lepsze rozwi?zania ni? wielki plecak.

Pami?tajmy tak?e, ?e normy za?adowania ?mig?owców lub innych ?rodków transportu w tym równie? ko?owego, s? ograniczone.

Jak pakowa? plecak?

Zasad? jest jednakowe pakowanie plecaków w pododdziale. Tak by ka?dy móg? wyci?gn?? potrzebn? rzecz z plecaka innego cz?onka patrolu bez zb?dnego szukania i zastanawiania si?. Plecak pakujemy tak by ?rodek ci??ko?ci umie?ci? lekko powy?ej bioder. Przedmioty, które b?d? nam stale potrzebne i po które b?dziemy cz?sto si?ga? umieszczamy w pobli?u klap/zapi??.

Plecak powinien spoczywa? na biodrach (to teoria w wypadku noszenia go na oporz?dzeniu ró?nie to wygl?da). Mitem jest twierdzenie, ze do kamizelki nie da si? nosi? plecaka. Do zdecydowanej wi?kszo?ci da si?, cho? nie zawsze b?dzie to szczyt komfortu. Na rynku s? dost?pne specjalne kamizelki zaprojektowane z my?l? o plecaku.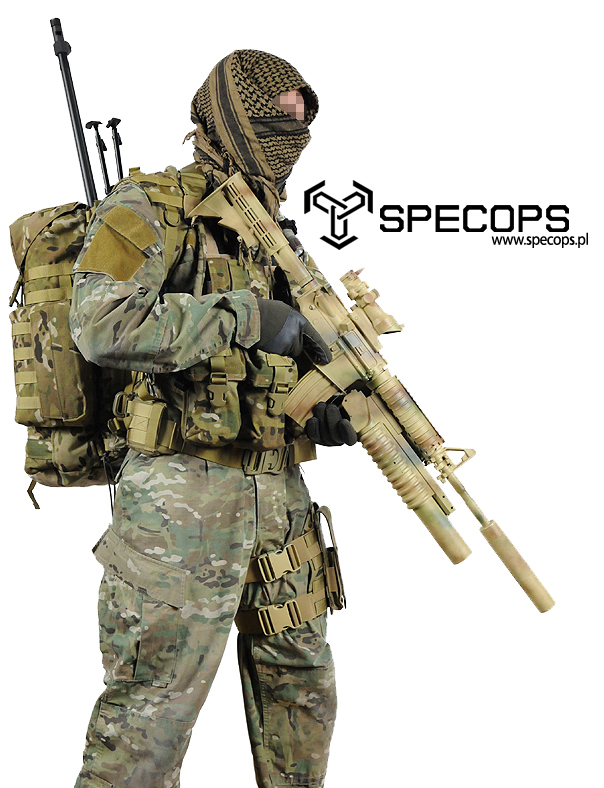 Przydatne patenty...

najbardziej przydatnym narz?dziem w polu okazuj? si? by? ta?ma izolacyjna (ja preferuj? szerok?) i ta?ma typu "100 mph". Bardzo przydatne okazuje si? posiadanie przy sobie kilku(nastu) metrów linki. Niezb?dnik nie jest wbrew pozorom niezb?dny, wystarczy zwyk?a ?y?ka (nó? mamy i tak) saperka z powodzeniem potrafi zast?pi? siekierk?. ?adownica ("mi?kka") na jeden magazynek, umieszczona pod k?tem, klap? w dó? na szelce r?ki niedominuj?cej przyspiesza wymian? pierwszego magazynka. Dobrze jest zabra? ze sob? sos Tabasco, ?rodek uzupe?niaj?cy elektrolity oraz talk(!). W zimie u?ywamy manierek termoizolacyjnych lub metalowych (w pierwszych woda tak ?atwo nie zamarznie, w drugich b?dzie mo?na j? stopi?. Oprócz no?a/bagnetu g?ównego zabieramy ze sob? tak?e rezerw? w postaci ostrza wielofunkcyjnego, Victorinox'a lub multitool'a Posiadamy przy sobie zapasowe ?ród?a zasilania do latarek (tak?e ?arówki je?li nie u?ywamy o?wietlenia LED), NVG oraz na poziomie zespo?u do radiostacji (je?li takowa jest na stanie).
?rodki pierwszej pomocy stanowi? integraln? cz??? wyposa?enia pojedynczego ?o?nierza jak i pododdzia?u. Dobrze jest mie? "pod r?ka" co? wysokoenergetycznego (baton, czekolada, glukoza, cukier). Worki na ?mieci, najlepiej grube i du?e, przydaj? si? do wielu zastosowa?. Na d?u?sz? met? zabieramy przybory do czyszczenia i impregnacji butów
...tak?e dla tych jedynie "bawi?cych" si? w wojsko.

?adownice na magazynki i granaty s?u?? przenoszeniu magazynków i granatów a nie snickersów i chi?skich zupek. Id?c do lasu nie idziesz na wojn?, mierz si?y na zamiary a nie zamiary na si?y, je?li nie jeste? pewien swoich mo?liwo?ci zamiast cegie? zabierz ?piwór i poncho.
Zawsze informuj kogo? gdzie jedziesz/idziesz i kiedy wracasz, zabieraj ze sob? telefon komórkowy (wy??czony) oraz inne ?rodki sygnalizacyjne, szczególnie w górach!

Zapas papieru toaletowego lub chusteczek higienicznych tak?e czasami mo?e okaza? si? przydatny. Czarna kamizelka niekoniecznie jest idea?em do lasu.

Je?li nie jeste? pewien jak si? zapakowa? zapytaj dziadka albo prze?o?onego, mo?e zaliczysz par? pompek albo dostaniesz s?u?b? poza kolejno?ci?, ale to akurat odczujesz znacznie mniej ni? b??d w przygotowaniu w polu!

Oryginaln? wersj? tego artyku?u opracowa?:

Stopczyk
?ród?o: http://www.specops.pl
| | |
| --- | --- |
| | |
| Podziel się tym wpisem | |
| Dodaj do: | |
| Adres: | |
| Na forum: | |
| HTML: | |
| | |
Oceny
Tylko zarejestrowani użytkownicy mogą oceniać zawartość strony
Zaloguj się
lub
zarejestruj
, żeby móc zagłosować.
---
Brak ocen. Może czas dodać swoją?
Kalendarz
<< Styczeń 2021 >>

| | | | | | | |
| --- | --- | --- | --- | --- | --- | --- |
| Po | Wt | śr | Cz | Pi | So | Ni |
| | | | | 1 | 2 | 3 |
| 4 | 5 | 6 | 7 | 8 | 9 | 10 |
| 11 | 12 | 13 | 14 | 15 | 16 | 17 |
| 18 | 19 | 20 | 21 | 22 | 23 | 24 |
| 25 | 26 | 27 | 28 | 29 | 30 | 31 |
Od 20110217 Odwiedziny gości:
| | |
| --- | --- |
| Dziś: | 18,369 |
Shoutbox
Musisz zalogować się, aby móc dodać wiadomość.
Niezb?dnik - Essentials :