Recenzja no?a MORA Light My Fire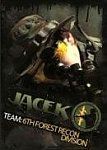 Jacek 6th Forest Recon Division Koszalin KOALICJA PÓ?NOC - Redaktor Naczelny. Specjalizacja: Nowo?ci, artyku?y o tematyce airsoftowej i militarnej. Kontakt PW oraz
Jaki? czas temu mieli?my przyjemno?? rozszerzenia horyzontów wspó?pracy z firm? SurvivalTech.pl
Chc?c poinformowa? naszych czytelników o tym fakcie, przedstawiamy pierwszy owoc naszej wspólnej pracy - recenzj? no?a MORA Light My Fire, dostarczonego przez sklep www.survivaltech.pl
MORA i Light My Fire
Który z survivalowców, airsoftowców czy innych pasjonatów outdooru nie zna szwedzkiej firmy MORA, a dok?adniej MORAKNIV? Chyba ka?dy kojarzy j? z produkcji lekkich, praktycznych i ostrych no?y.

A który z survivalowców nie zna firmy Light My Fire produkuj?cej najlepsze krzesiwa na ?wiecie? J? te? pewnie wi?kszo?? osób kojarzy.
Dwie wy?ej wymienione firmy wpad?y na ciekawy pomys? - po??czy?y si?y by stworzy? produkt wyznaczaj?cy now? jako?? na rynku no?y i krzesiw. Produktem tym jest w?a?nie nó? FireKnife Light My Fire, który dzisiaj mamy przyjemno?? zaprezentowa?.
Krzesiwo + nó? = praktyczne rozwi?zanie
Na rynku znajdziemy bardzo wiele zestawów, które ??cz? w sobie krzesiwo i nó?. Jest to bardzo praktyczne rozwi?zanie umo?liwiaj?ce przede wszystkim rozpalenie ognia w prawie ka?dej sytuacji.
Po??czenie tych dwóch elementów tworzy tzw. pierwsz? lini? wyposa?enia. Dlaczego? Ano dlatego, ?e nó? jest rzecz? niezb?dn?, któr? zawsze zabieramy ze sob? w teren, jest to narz?dzie niezast?pione, mo?na robi? nim przeró?ne rzeczy od zwyk?ego ci?cia, przez zdobywanie po?ywienia, po wykonywanie narz?dzi. A krzesiwo? Krzesiwo zapewnia nam ogie?, a ten z kolei jest te? bardzo wa?ny je?li chodzi o przetrwanie - przede wszystkim daje ciep?o, pozwala przyrz?dzi? po?ywienie, a tak?e daje poczucie bezpiecze?stwa.
Jednym z wa?nych aspektów pod którym nó? MORA LMF wyprzedza konkurencj?, jest to jak producent praktycznie po??czy? oba elementy. Jest to pierwszy produkt, gdzie krzesiwo mie?ci si? w r?koje?ci no?a. Dodatkowo jest to zaprojektowane w sposób, aby nie utrudnia?o chwytu oraz aby krzesiwo by?o dobrze zabezpieczone. Takie zastosowanie daje nam pewno??, ?e nigdy nie zapomnimy którego? z dwóch produktów oraz nigdy nie powinni?my niczego zgubi?.
Dalej klasyczna MORA czy ju? nie?
Jak wynika z tytu?u tego akapitu, chcia?bym po?wi?ci? kilka s?ów temu czy dodanie do no?a krzesiwa wp?yn??o na jego inne parametry, którymi charakteryzowa?y si? klasyczne modele.

Otó? nie, dalej mamy tutaj dawny, dobry nó? MORA, bardzo zbli?ony od modelu Companion. Ultralekki, ultrawygodny, o doskona?ej powierzchni tn?cej, ??cz?cy w sobie funkcjonalno?? i estetyk?, oferuj?cy znakomity stosunek ceny do jako?ci.
Przeznaczenie
Do czego s?u?y krzesiwo, to ka?dy wie wi?c nad jego innymi zastosowaniami nie b?dziemy si? zastanawia?, gdy? chyba nawet trudno takowe wymy?li?. Wa?ne jest jednak zastosowanie samego no?a.
Patrz?c na nasz produkt od razu mo?emy wyci?gn?? wniosek, ?e nie jest to nó?, którym mo?na "r?ba?" drewno. Jest to nó? o troch? innym przeznaczeniu, ma by? przydatny na ró?nego rodzaju biwakach, nied?ugich wyj?ciach w teren oraz podczas ogólnej aktywno?ci outdoor'owej, jak wcze?niej wspomnia?em nó? mo?e tworzy? pierwsz? lini? wyposa?enia, która w ekstremalnych sytuacjach mo?e czasem nawet uratowa? ?ycie.
Nasz produkt mo?emy wykorzysta? do podstawowych czynno?ci survivalowych. Mam tu na my?li krzesanie ognia, przygotowywanie rozpa?ki, ostrzenie, przygotowywanie po?ywienia, przecinanie linek i innych cienkich materia?ów oraz wykonywanie prostych, niewielkich "narz?dzi". Na pewno nie przyda nam sie on do przecinania g?stych chaszczy, ci?cia grubych kawa?ków drewna, podwa?ania, wyginania, kopania, ale z drugiej strony to nie mo?emy uzna? tego za wad?, gdy? jego rola jest zupe?nie inna i wybieraj?c go musimy mie? tego ?wiadomo??.
Konstrukcja
D?ugo?? no?a to 22,5cm czyli nie za d?ugi, nie za krótki, mo?na rzec w sam raz jak na lekki, praktyczny nó?. Waga to 95 gram czyli jak widzimy bardzo ma?o i jest to na pewno zalet?, gdy? nie b?dziemy si? zastanawia?, czy czasem nie wa?y za du?o taki nó?, podczas pakowania szpeju. Tyle je?li chodzi o d?ugo?? i wag?.
G?ownia wykonana ze stali, o klasycznym szlifie skandynawskim. Zapewnia doskona?e parametry tn?ce oraz jak przysta?o na jako?? MORA jest wytrzyma?a. Te dwa atuty czasem ci??ko po??czy?, nie raz s?yszy si?, ?e kto? mia? bardzo ostry nó?, ale wystarczy, ?e lekko o co? uderzy? i p?k? jak plastikowy, albo nawet gorzej. Dodatkow? zalet? jest to, ?e nasz nó? mo?na bardzo ?atwo i szybko naostrzy?, ma to cz?sto du?e znaczenie podczas wyj?? w teren.
R?koje?? jest oblana mi?kk? gum?, dzi?ki czemu nó? pewnie le?y w d?oni, nawet w warunkach, gdzie pada deszcz lub mamy do czynienia z b?otem, piaskiem, py?em, kurzem. Poza gum?, r?koje?? zosta?a wykonana z lekkiego i dosy? wytrzyma?ego tworzywa sztucznego. Jej zako?czenie tworzy uchwyt krzesiwa, które jak wcze?niej pisa?em, ma swoje miejsce w?a?nie w r?koje?ci. Krzesiwo odbezpiecza si? poprzez energiczne przekr?cenie w bok, po tym mo?na je wyj??. Zastosowanie takiego "klipsu" daje nam pewno??, ?e nie wypadnie ono samo. Od razu zauwa?alne s? otwory w r?koje?ci, w miejscu, w które wchodzi krzesiwo. Maja one za zadanie odprowadzanie wilgoci od krzesiwa.
Krzesiwo
Specem od krzesiw ani no?y nie jestem, nie jestem te? ?adnym Bear Gryllsem, ale co nieco w r?kach mia?em, co nieco poczyta?em i mog? napisa? par? s?ów tak?e na temat krzesiwa.
Jak ju? wspomina?em, krzesiwo jest marki Light My Fire. Jest ono ?redniej d?ugo?ci oraz jest dosy? grube. Dzi?ki znakomitym w?a?ciwo?ciom, krzesiwo LMF daje nam du?e, wysokoenergetyczne iskry, dzi?ki którym szybko mo?emy rozpali? ogie?. Oczywi?cie to zale?y jeszcze od naszych umiej?tno?ci. Dodatkowo krzesiwo wyposa?one jest w r?czk?, która umo?liwia dobry chwyt dzi?ki ??obieniom na palce po obu stronach. Oprócz tego mamy do??czony do niego sznurek, dzi?ki któremu mo?emy przywi?za? ca?y nó? do oporz?dzenia.

Jako iskrownik w naszym produkcie, ma s?u?y? grzbiet no?a, w którym kraw?dzie nie s? polerowane, ale wyko?czone pod k?tem 90 stopni. Aby rozpali? ogie?, musimy jednak pomy?le? o dobrej rozpa?ce. Je?eli ju? j? mamy, to wystarczy oprze? krzesiwo o tward? powierzchni? pod pewnym k?tem i energicznie przeci?gn?? no?em z góry na dó? (czynno?? czasem trzeba powtórzy? kilka lub kilkana?cie razy). Innym sposobem jest mocne trzymanie no?a i przeci?ganie krzesiwa w niewielkiej wysoko?ci nad rozpa?k?.
Na chwil? obecn?, z tego co wiadomo, to nie mo?na dokupi? do no?a nowego krzesiwa, w wypadku, gdyby stare si? zu?y?o. Mo?liwe jednak, ?e producent kiedy? wprowadzi je na rynek tak?e osobno.
Pochwa
Mamy w tym wypadku do czynienia z klasyczn? pochw? MORA. Mo?emy j? przywiesi? do pasa i u?ytkowa? bez obaw, ?e si? odepnie, posiada bowiem dodatkowe zabezpieczenie blokuj?ce jej przemieszczenie si?. Oprócz tego pochwa wyposa?ona jest w otwór odprowadzaj?cy wod?. Nó? wchodzi do niej szybko, bez problemu i blokuje si? charakterystycznym klikni?ciem. Przewa?nie tego typu pokrowce na nó? MORY gwarantuj? nam bezpiecze?stwo, ale osobi?cie spotka?em si? z tak?, z której nó? wypada? przy lekkim potrz?saniu, dlatego zawsze lepiej zabezpieczy? go sznurkiem, smycz? czy link?. Pochwa wykonana jest z twardego, lekkiego i wytrzyma?ego tworzywa sztucznego.
Test u?ytkowy
Nó? by? na kilku parugodzinnych wyj?ciach w teren, ale tak?e na jednym bytowaniu. Nie by? oszcz?dzany, ale dbali?my te? o to, aby go nie zniszczy?. Kilka razy uda?o mu si? rozpali? ognisko, przygotowa? jedzenie, nastruga? kilka patyków, poprzecina? troch? linek i ma?ych kawa?ków drewna, bez problemu tak?e poradzi? sobie z przygotowaniem odpowiedniej rozpa?ki pod rozpalenie ognia krzesiwem.
Przez ca?y okres testowania, nó? ani razu nie zawiód?. Nie mia?em ?adnych problemów z jego u?ytkowaniem. Idealnie wykonywa? prace, do których zosta? stworzony.
Podsumowanie
Wed?ug mnie nó? Fire Knife Light My to produkt ??cz?cy w sobie jako?? firm MORA i Light My Fire, oferuj?cy idealny stosunek ceny do jako?ci.
Jest to produkt bardzo praktyczny, nadaj?cy si? do rozmaitych prac outdoor'owych.
Jego cena to tylko 115z? w sklepie www.survivaltech.pl czyli bardzo przyzwoita, na pewno gdyby?my go zgubili, to nie b?dzie tak bole? jak by?by to nó? za 500z?. Kupuj?c krzesiwo i nó? osobno i tak tyle zap?acimy, a tutaj mamy jakby w gratisie zgrabne i funkcjonalne po??czenie krzesiwa z no?em (schowek w r?koje?ci).
W naszym wypadku kolor to czerwony, czyli troch? w ASG zdradzaj?cy, ale bez obaw, producent oferuje kilka barw - niebiesk?, zielon?, pomara?czow?, czerwon? oraz czarn? dzi?ki czemu mo?emy sobie wybra? tak?, która b?dzie najbardziej odpowiednia.
Dzi?kujemy za udost?pnienie no?a do testów sklepowi www.survivaltech.pl