Ankieta
Czy jeste? zwolennikiem u?ywania magazynków typu:
Real/Low/Mid-Cap
86% [149 głosów]
Hi-Cap
14% [24 głosy]
Ogółem głosów: 173
Musisz zalogować się, aby móc zagłosować.
Rozpoczęto: 11.01.11
Archiwum ankiet
Słoneczny panel
Dziś jest:
Wschód słońca:
7:17
Zachód słońca:
15:51
Dzień trwa:
8
Godzin
33
minut
Jest krótszy od najdłuższego dnia o: 10:00
"Tu dzieci celuj? w ?mig?owce" - wywiad z polskimi pilotami
Tutaj dzieci od ma?ego ucz? si? nienawi?ci do ?mig?owców. Najpierw celuj? w nie kamieniem, potem dostaj? ka?asznikowa, a na ko?cu wyrzutni? pocisków RPG r11; o pracy pilota w Afganistanie opowiadaj? por. Joanna Erbetowska i por. Piotr Walendziak, którzy lataj? ?mig?owcami Mi-17.


Anna Pawlak, PKW Afganistan: Mówi si?, ?e ka?dy dzie? na misji jest podobny do poprzedniego. W waszym przypadku jest chyba inaczej?

Por. Piotr Walendziak: Wszystko zale?y od zada? jakie wykonujemy. Nie tylko przewozimy pasa?erów, którzy uwielbiaj? si? spó?nia? (?miech - A.P.), dostarczamy do poszczególnych baz sprz?t, pe?nimy dy?ury w ramach si? szybkiego reagowania (QRF), a tak?e wspieramy z powietrza operacje prowadzone przez Zgrupowania Bojowe i wspó?dzia?amy z si?ami specjalnymi.

Ile osób tworzy za?og? ?mig?owca Mi-17?

Por. Joanna Erbetowska: Dwóch pilotów, technik pok?adowy oraz strzelcy. Nie zapominajmy tak?e o serwisie technicznym, który zabezpiecza nasze ?mig?owce.

Jak zaczyna si? dzie? s?u?by?

- P.W.: Z samego rana mamy informowanie, w trakcie którego poznajemy panuj?ce obecnie warunki pogodowe, bie??c? sytuacj? na terenie prowincji, dane rozpoznawcze, aktualnie przeprowadzane operacje i patrole. Potem wykonujemy tzw. prób? ?mig?owców, czyli sprawdzamy czy wszystko dzia?a tak jak powinno i czy ?mig?owiec jest sprawny.

Przez ca?y dzie? dy?urujemy przy radio. Bywa tak, ?e jest cisza i spokój. Cz?sto jednak otrzymujemy sygna? do wylotu. Wtedy idziemy do naszego Centrum Operacji Taktycznych, gdzie zaznajamiamy si? z sytuacj? i dostajemy dok?adne instrukcje. Wtedy te? zabieramy na pok?ad ?o?nierzy. Je?eli zostajemy wys?ani w ramach przewozu rannych i poszkodowanych CASEVAC, na pok?ad zabieramy tak?e ratownika medycznego.

Wieczorem jest zmiana. Na dy?ur nocny wchodzi kolejna za?oga, ale wtedy pierwsza za?oga, czyli w dzisiejszym wypadku nasza ekipa jest jej zapasem. Je?eli chodzi o wyloty typowo transportowe, na odprawie wieczornej dowiadujemy si? odno?nie lotów zaplanowanych na nast?pny dzie?. Godziny startów s? naprawd? przeró?ne, pocz?wszy od 4.00 rano do pó?nych godzin wieczornych, a czasem i nocnych.

Je?eli jest czas wolny, to?

- P.W.: Stawiamy na sport - si?ownia, bieganie i gra w pi?karzyki (?miech - A.P.). Nasi technicy cz?sto pichc? nam polskie potrawy, wi?c mamy ma?? odskoczni? od jedzenia sto?ówkowego. Wieczorem spotykamy si? w swoim gronie i rozmawiamy o wszystkim i o niczym.

Który raz jeste?cie na misji?

- A.E.: To mój pierwszy wyjazd.

- P.W.: Czwarty raz jestem na misji. Wcze?niej w 2004 i 2006 roku by?em w Iraku, dwa lata pó?niej w Czadzie.

Teraz przysz?a kolej na Afganistan. Piotrze, czy uwa?asz, ?e takie wyjazdy s? przepisem na ?ycie?

- P.W.: Absolutnie nie! Co to za sposób na ?ycie, je?li ma si? rodzin?? Zostawiasz ich w kraju na sze??, czasem siedem miesi?cy. Co prawda zdobywasz do?wiadczenie, latasz w zupe?nie innych warunkach ni? w kraju, ale p?acisz za to roz??k? z rodzin?. Ja mam ?on? i trzyletnie bli?niaki, Konrada i Dawida .

Gdyby? mia? porówna? poprzednie misje z obecn?, to któr? uzna?by? za najtrudniejsz??

- P.W.: Zdecydowanie Afganistan. Szczególnie trudne s? tutaj warunki do latania. Du?e wysoko?ci, upa?y, ogromne ilo?ci py?u przy l?dowaniu. Trzeba by? dobrze wyszkolonym, ?eby sobie tutaj poradzi?. Poza tym odczuwa si? realne zagro?enie, zawsze bowiem istnieje ryzyko, ?e ?mig?owiec mo?e zosta? ostrzelany, a nawet zestrzelony. W Afganistanie spora grupa dzieci od ma?ego uczy si? nienawi?ci do ?mig?owców. Najpierw celuj? w nie kamieniem z procy, potem dostaj? ka?asznikowa, a na ko?cu wyrzutni? pocisków RPG.

Jak zacz??a si? przygoda z lataniem?

- P.W.: Pierwsze praktyki mia?em dwana?cie lat temu. W 2002 r. uko?czy?em szko??. Obecnie s?u?? w 1 dywizjonie lotniczym w Le?nicy Wielkiej.

Samodzieln? Grup? Powietrzn? tworz? osoby z ró?nych jednostek w kraju. Jak si? z nimi wspó?pracuje?

- P.W.: Tworzymy naprawd? zgrane zespo?y. Nie chc?, ?eby to by?o ?le odebrane, ale tu nie ma przypadkowych ludzi. SGP tworz? do?wiadczeni ?o?nierze. Jest mi?dzy nami dobra atmosfera, wspieramy si?.

Dzisiaj masz dy?ur wspólnie z Asi?. Dogadujecie si??

- P.W. Tak, znamy si? od trzech lat. Asia jest bardzo kompetentna, lubi lata? i zna si? na tym. Idealnie zna korespondencj? lotnicz?, a poza tym? Hmr30; robi bardzo dobre frappe.

Odczuwasz ró?nic?, ?e lecisz z kobiet??

- P.W. Tak. W kabinie ?adniej pachnie.

Asiu, jeste? jedyn? kobiet?r11;pilotem w polskim kontyngencie. Wcze?niej by?a tu tylko jedna kobieta. Najprawdopodobniej jeste? pierwsz? Polk?, która l?dowa?a w Afganistanie w terenie przygodnym (nie na l?dowisku). Sk?d wzi??o si? zami?owanie do latania?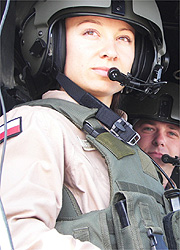 Por. Joanna Erbetowska to jedyna kobieta-pilot w polskim kontyngencie.
(fot. PKW Afganistan, Ghazni / Anna Pawlak)



- A.E.: Chcia?am robi? co?, co szybko mi si? nie znudzi. Po prostu. Wybra?am latanie. Trwa to ju? dziesi?? lat. W kraju s?u?? w Powietrznej Jednostce Ewakuacji w Nowym Glinniku. Latam na Sokole i Mi-17.

Czy na podstawie swoich do?wiadcze?, mo?esz powiedzie?, ?e ?mig?owce Mi-17 sprawdzaj? si? w Afganistanie?

- A.E.: Tak, tym bardziej ?e s? w pe?ni opancerzone, w przeciwie?stwie do ?mig?owców innych krajów, które maj? opancerzone tylko kabiny.

Soko?y, na których latasz w kraju, sprawdzi?yby si? w Afganistanie?

- A.E.: My?l?, ?e tak. Wynika to z do?wiadcze? irackich. D?u?ej ni? np. Mi-24 mog? by? w powietrzu, mog? wzi?? na pok?ad tyle samo uzbrojenia. Sokó? startuje z zawisu, jest w stanie bez problemu wyl?dowa? nawet tam, gdzie nie ma pasa lotniskowego.

Najwi?ksze wyzwanie dla na misji?

- A.E.: Najbardziej wymagaj?ce s? loty z si?ami specjalnymi. L?dujemy naprawd? w trudnych warunkach, cz?sto w nocy. W krótkim czasie trzeba b?yskawicznie podejmowa? wiele decyzji.

Satysfakcja jest?

- A.E.: Tak. Jest naprawd? wielka frajda.

Rozmawia?a Anna Pawlak z Sekcji Informacyjno - Prasowej PKW Afganistan, Ghazni
Wynalezione na WP.PL

| | |
| --- | --- |
| | |
| Podziel się tym wpisem | |
| Dodaj do: | |
| Adres: | |
| Na forum: | |
| HTML: | |
| | |
Oceny
Tylko zarejestrowani użytkownicy mogą oceniać zawartość strony
Zaloguj się
lub
zarejestruj
, żeby móc zagłosować.
---
Brak ocen. Może czas dodać swoją?
Kalendarz
<< Styczeń 2021 >>

| | | | | | | |
| --- | --- | --- | --- | --- | --- | --- |
| Po | Wt | śr | Cz | Pi | So | Ni |
| | | | | 1 | 2 | 3 |
| 4 | 5 | 6 | 7 | 8 | 9 | 10 |
| 11 | 12 | 13 | 14 | 15 | 16 | 17 |
| 18 | 19 | 20 | 21 | 22 | 23 | 24 |
| 25 | 26 | 27 | 28 | 29 | 30 | 31 |
Od 20110217 Odwiedziny gości:
| | |
| --- | --- |
| Dziś: | 5,668 |
Shoutbox
Musisz zalogować się, aby móc dodać wiadomość.
Niezb?dnik - Essentials :