Ankieta
Czy jesteś zwolennikiem używania magazynków typu:
Real/Low/Mid-Cap
86% [149 głosów]
Hi-Cap
14% [24 głosy]
Ogółem głosów: 173
Musisz zalogować się, aby móc zagłosować.
Rozpoczęto: 11.01.11
Archiwum ankiet
Słoneczny panel
Dziś jest:
Wschód słońca:
7:12
Zachód słońca:
15:58
Dzień trwa:
8
Godzin
46
minut
Jest krótszy od najdłuższego dnia o: 9:47
Koncepcja kamuflażu moim okiem
Idealnego kamuflażu na każde warunki na razie nie ma. Piszę na razie bo czekam aż w końcu ktoś wymyśli kamuflaż w rodzaju jakiego używają Predatorzy ;)
Póki co musimy się zadowolić różnymi statycznymi wzorkami. Słowo statycznymi jest w zasadzie słowem kluczem. Kamuflaż do lasu iglastego będzie średnio pasował na tereny pustynne czy arktyczne.
Co prawda Airsoftowcy nie muszą wyposażać na każdą strefę klimatyczną.
Na Polskie warunki wystarczą kamuflaże na tereny leśne i miejskie, do tego dochodzi aura zimowa, letnia i jesienna. Czyli można się wyposażyć w 4 kamuflaże (przykładowo:ggg Zimowy BW r11; na śniegi, fiński M08 r11; letnie tereny leśne, Multicam r11; jesienią , Szary skafander r11; tereny miejskie).

Temat wyższości jednego kamuflażu nad innym przypomina nieco dyskusje o wyższości świąt Bożego Narodzenia nad Wielkanocą. Sam pamiętam jak w moim starym zespole był wybierany wzór kamuflażu, na forum temat zajął kilkanaście stron postów.
Każdy ma swoje racje i nie zamierzam przekonywać że moje rozwiązania są idealne .

Jak każdy airsoftowiec poznawałem poszczególne wzory kamuflaży, zachwycając się co niektórymi.
Zacząłem od brytyjskiego DPMu i jego dobrze dopasowanymi kolorami na polskie lasy, niestety mundur który posiadałem nie miał dobrego kroju, poza tym był człowiek chciał się wyróżnić spośród innych ;)
Potem przyszła kolej na niemiecki FLECKTARN bardzo dobry na polskie lasy szczególnie jesienią, na mój gust w niektórych egzemplarzach za dużo jest koloru żółtego oraz czerwonego.
Po Fleku nabyłem kopię Duńskiego M84 który miał bardziej nadawać się na do lasu wiosną i latem, Niestety moja kopia miała tak intensywny kolor zielony że aż palił w oczy.
Następnie miałem krótką randkę z polską PANTERĄ niby kamuflaż ok. ale tu zadecydował krój munduru. Rozstaliśmy się bez żalu.
Przyszedł czas na rosyjskie kamuflaże, swoją drogą chyba żadne państwo nie ma tylu wzorów co Rosja, niestety trudno jest zdobyć dla drużyny jeden wzór, trudno nie oznacza że się nie da ;)
Najpierw był dwustronny KLMK w kamuflażu BERIOZKA/CYFRA zwykłym i nocnym. Podobno idealnie maskuje latem gdy mocno świeci słońce, podobnor30;
KZS w kamuflażu BERIOZKA. Ciekawostką kamuflażu w KZS jest to że na 3 sztuki tego maskałatu każdy może mieć inny odcień. Co ciekawsze spotkałem się z egzemplarzami które poszczególne części maskałatu (tzn. kaptur, tułów, rękawy lewa lub prawa nogawka) były wykonane w innym odcieniu. Podobno to tak jest celowo, choć myślę że w latach 80tych po prostu radzieckie fabryki szyły tym co miały pod ręką. Będę jednak chciał wrócić jeszcze do tego pomysłu nieco później.
W końcu natrafiłem na mój pierwszy kamuflaż 3D był a w zasadzie nadal jest rosyjski LEŚNY DIABEŁ/LEŚNYJ Można powiedzieć że kamuflaż 3D jest to coś pośredniego pomiędzy kamuflażem na zwykłym mundurze czy maskałacie a ghillie. Nie jest tak niewygodne jak ghillie a jednocześnie próbuje rozmyć naszą sylwetkę również za pomocą kształtu ( maskałat 3D nie przypomina kształtem zwykłego munduru). Do tego pomysłu również będę chciał w wrócić.

Skoro już wspomniałem o ghillie suitr17;ach to przyszło się też i przez to. Najpierw klasyczne kurtki pokryte tonami jutą w których wyglądałem niczym Wielki Ptak ulicy Sezamkowej Niestety statyczna rola snajpera uwięzionego w takim czymś nie bardzo pasuje do dynamicznych bojów spotkaniowych jakie najczęściej mają miejsce w airsofcie.
Moje ghille zatem ewoluowało w stronę ghillie-hoodr17;ów pisałem o tym tutaj.

Wróćmy jednak do kamuflaży, ostatnim kamuflażem jaki używam jest fiński M/05 swoją droga Rosjanie posiadają bardzo podobny wzór JEGER. Kamuflaż rzadko spotykany, elegancki jakby stworzony w lasach iglastych, dobrze dopasowany też do polskich terenów leśnych. Mój egzemplarz ma nie najlepszy krój, i co najważniejsze bardzo szeleszczący materiał.
Mała ciekawostka, poza M08 oraz kamuflażem śnieżnym Finowie stworzyli jakby jego krzyżówkę tj, zielono-brązowe fraktale przemieszali z białymi fragmentami.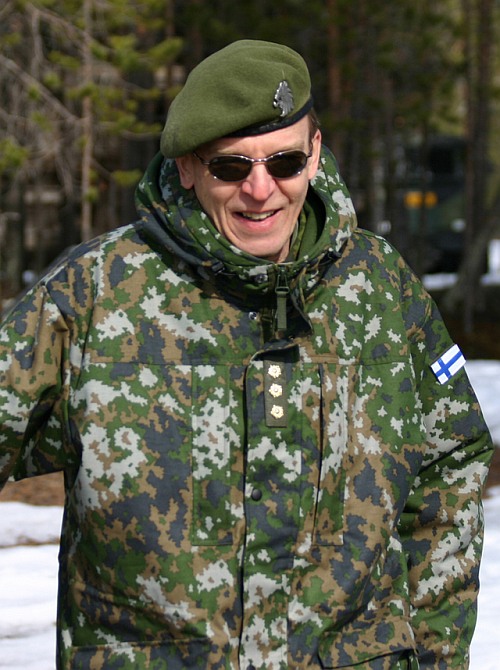 Wygląda to jakby topniejący śnieg który pozostał w lesie jeszcze w chłodniejszych miejscach. Bardzo ciekawy pomysł szczególnie kiedy mamy coraz łagodniejsze zimy.

Trochę podobny kamuflaż wymyślili włosi tyle że w ich VEGETATO zmiast zieleni przeważa barwa w stylu Coyote Brown.

Nie dawno myślałem nad nową unifikacją ubioru wojskowo-outdoorowego w teren. Aby pasował do spotkań bojowych jak i do zwykłych włóczęg. Tutaj głównie ma znaczenie krój i materiał, kamuflaż jest mniej ważny. Upatrzyłem sobie Oliwkę. Najbardziej uniwersalny i powszechny kamuflaż nie powinno być problemu ze skompletowaniem wyposażenia. Projekt cały czas nie zrealizowany.

Przed wyborem konkretnego kamuflażu musimy zastanowić się gdzie chcemy go użyć.
Niezłym pomysłem jest wykorzystanie munduru oraz maskałatu który zwykle jest spakowany w oporządzeniu i wyjmowany gdy zachodzi taka potrzeba.

Najczęściej roślinność poniżej pasa bywa ciemniejsza od tej powyżej zatem spodnie mogą być ciemniejsze od koszuli. Przykładowo spodnie są bardziej zielone (jak trawa), koszula brązowa (jak kora drzew). Przy okazji rozbijamy kształt na dwie części, nasza sylwetka nie jest już w jednym odcieniu. Ogromnym minusem tego rozwiązania jest r11; 100 punktów lansu bo rzeczywiście raczej będziemy wyglądać jak partyzant nie przypominająca pięknego szturmowca Imperium. No ale coś za coś ;)

Od niedawna coraz częściej obserwuje kamuflaże produkowane z myślą o myśliwych. Tutaj pierwsze skrzypce grają amerykanie. Chodząc po lesie z łukiem myśliwi potrzebują dostać się jak najbliżej zwierzyny i w tym głównie celu powstały takie kamuflaże jak:





Przekonała mnie właśnie ta potrzeba podejścia do zwierzyny jak najbliżej. Podobnie jest w Airsofcie, gra się na dystansie nie przekraczającym 60 metrów. Nijak to się ma do dystansów
w jakich strzela się z normalnej broni.
Jeżeli do kamuflażu myśliwskiego dodamy 3D to powinno być super, ale to na razie moja teoria.




Przynajmniej myśliwskie 3D o wiele łatwiej zdobyć niż wojskowe.
Minusem dla myśliwskiego może być krój ale to trzeba będzie jeszcze sprawdzić. Poza tym kamuflaż myśliwski sprawdzi się tylko w lesie, są też wzory na tereny trawiaste,

Ważną tez sprawą o której nie należy zapominać przy wyborze kamuflażu to jego widoczność przez noktowizor. Przy niedzielnych strzelankach sprawa jest mniej ważna, jednak gdy myślimy o 24 godzinnych milsimach to podstawa.
Może się okazać że wcześniej zaoszczędzone pieniądze które wydaliśmy na kopię zamiast kontraktu poszły zostały źle zainwestowane.
Nie wiadomo także jak pod tym względem wypadnie kamuflaż myśliwski.

Niedawno wykonałem test swoich kamuflaży: najsłabiej wypadła czapeczka w polskiej PANTERZE w wykonaniu Helikona, w sumie nie chodziło o sam kamuflaż tylko o rodzaj paska wykorzystywanego do mocowania maskowania. Po włączeniu oświetlacza w noktowizorze pasek świecił aż miło. Swoją drogą polecam również sprawdzić paski i ładownice na kamizelkach, też mogą ładnie świecić.
Jako ciekawostkę dodam że bardzo ładnie zachowywał się w ciemności w sumie już wiekowy NRD-owski DESZCZYK,

Na zakończenie dodam jeszcze że w mundurze/maskałacie nie jest ważny jedynie kamuflaż, ma duże znaczenie również krój oraz materiał z jakiego jest zrobiony. Większość kamuflaży spełnia swoją rolę, mogę one nawet nam się znudzić/opatrzyć, nam musi być przede wszystkim wygodnie a to zapewni nam krój oraz materiał.


źródło: http://weekend-pa...ogspot.com

| | |
| --- | --- |
| | |
| Podziel się tym wpisem | |
| Dodaj do: | |
| Adres: | |
| Na forum: | |
| HTML: | |
| | |
Oceny
Tylko zarejestrowani użytkownicy mogą oceniać zawartość strony
Zaloguj się
lub
zarejestruj
, żeby móc zagłosować.
---
Brak ocen. Może czas dodać swoją?
Kalendarz
<< Styczeń 2022 >>

| | | | | | | |
| --- | --- | --- | --- | --- | --- | --- |
| Po | Wt | śr | Cz | Pi | So | Ni |
| | | | | | 1 | 2 |
| 3 | 4 | 5 | 6 | 7 | 8 | 9 |
| 10 | 11 | 12 | 13 | 14 | 15 | 16 |
| 17 | 18 | 19 | 20 | 21 | 22 | 23 |
| 24 | 25 | 26 | 27 | 28 | 29 | 30 |
| 31 | | | | | | |
Od 20110217 Odwiedziny gości:
| | |
| --- | --- |
| Dziś: | 9,313 |
Shoutbox
Musisz zalogować się, aby móc dodać wiadomość.
Niezbędnik - Essentials :