Ankieta
Czy jeste? zwolennikiem u?ywania magazynków typu:
Real/Low/Mid-Cap
86% [149 głosów]
Hi-Cap
14% [24 głosy]
Ogółem głosów: 173
Musisz zalogować się, aby móc zagłosować.
Rozpoczęto: 11.01.11
Archiwum ankiet
Słoneczny panel
Dziś jest:
Wschód słońca:
7:15
Zachód słońca:
15:54
Dzień trwa:
8
Godzin
39
minut
Jest krótszy od najdłuższego dnia o: 9:55
Bowman i Midland czyli mezalianz niechciany...

Bowman i Midland czyli mezalianz niechciany...

Czyli jak zrobi?, aby Midland mia? normalny zestaw s?uchawkowy, a nie gwa?to ucha.


AnR - Chimera Specjalizacja:Serwis



Jestem szcz??liwym posiadaczem Midlanda z serii GXT850VP4 od ju? prawie dwóch lat. Ma ono wiele zalet, jedn? z najwi?kszych jest spory zasi?g oraz relatywnie niska cena. W tym momencie mój model mo?na na allegro znale?? i nawet po 200 z? komplet. Co jest bardzo dobr? cen? za tej klasy radio. Ale zacznijmy od pocz?tku. W mojej dru?ynie d?ugo szukali?my wspólnego ?rodka ??czno?ci, wtedy by?y przerabiane modele Motoroli, Maxcoma. Po prawie pó? rocznej dyskusji wybór pad? od razu na w?a?nie Midlanda. Szybka sk?adka pieni??ków, potem oczekiwanie. Jest! Przysz?y. Czym pr?dzej polecia?em do Kolegi, który przyjmowa? przesy?k?. Wr?czy? mi on wtedy nowe, ?wie?e radio wraz z ?adowark?. Przegl?da?em sobie, ju? w domu, dok?adnie pude?ku w poszukiwaniu zestawu s?uchawkowego. Zawsze na filmach widzia?em jak ?o?nierze maj? takie fajne zestawy. To, co wyj??em co najwy?ej mog?o kwalifikowa? si? jako rekwizyt filmu klasy B. Zestaw s?uchawkowy, do??czony wraz z radiem pozostawia wiele do ?yczenia. O?miel? si? powiedzie? nawet, ?e nadaje si? od razu do kosza. Jest niesamowicie niewygodny, rgwa?ci uchor1; wbijaj?c si? w nie, wiecznie si? przesuwa, przycisk PTT jest ma?y, w r?kawiczkach trudno go dobrze wcisn??. Po pó? roku po prostu umar?. Wtedy naby?em drugi, ale ju? tak? zaawansowan? wersje. Znów problemy ze s?uchawk?, PTT co prawda troch? wi?kszy, ale nadal problemem jest operowanie nim w r?kawiczkach. Do tego notorycznie spada? mi z PALSr17;ów, a wynika?o to z tego, ?e klamerka zastosowana w nim by?a co najwy?ej szmelcowata.









Moje oko zawsze z zazdro?ci? patrzy?o na u?ytkowników innych radio, z normalnym wtykiem, kenwoodr17;a na przyk?ad. Bo chyba zapomnia?em napisa?, ?e Midland mia? swój w?asny wtyk? Tak jest. Do Midlanda pasuj? jedynie zestawy s?uchawkowe Midlanda, których na rynku nie ma za wiele i wszystkie nie nadaj? si? do u?ytku paramilitarnego. W tym czasie z Kolega Markiem mocno kombinowali?my, co by tutaj z tym fantem zrobi?. Gdzie? wyczyta?, ze wtyk ICOM pasuj?. Zamówi? wtedy zestaw chi?skiego Bowmana z Chin. By?em niezwykle sceptyczny nastawiony do tego pomys?u, nie wierzy?em w powodzenie jego chytrego, zreszt? jak zawsze, planu. Po jakim? miesi?cu, w którym ja totalnie zapomnia?em o sprawie, a Marek po nocach nie móg? spa?. I znów euforycznym krzykiem oznajmi? mi, oczywi?cie przez s?uchawk? telefonu, o 0800 rano w mój jedyny dzie? wolny, ?e przyszed?. Nast?pnego dnia zabrali?my si? do ogl?dzin. Fakt, wtyk pasuje idealnie. A nawet lepiej! Zestaw s?uchawkowy odbiera! S?ycha? w nim wszystko idealnie. Rado?? zapanowa?a w naszym dwuosobowym sk?adzie. Czym pr?dzej zabra?em si? za rozmontowanie samego uk?adu PTT i my?leniu jakby tutaj zrobi?, ?eby to z Midlandem dzia?a?o. I praktycznie na tym si? sko?czy?o. Roz?o?y?em, a nast?pnie Bowman w cz??ciach przele?a? u mnie na biurku w pracy pó? roku, albo i nawet wi?cej. Pewnego leniwego dnia, gdy nie mia?em co robi? postanowi?em si? do niego zabra?. Upar?em si?, ze to zrobi?... Po dwóch tygodniach uda?o si?.

Od razu musze zaznaczy?, ?e jestem do?? t?py je?li chodzi o wszelkie schematy elektroniczne, elektryczne, mistrzem lutownicy te? nie jestem, wi?c prosz? nie kierowa? pyta? rdlaczego tak?r1;, rdlaczego nie inaczej?r1; oraz zarzutów, ?e rbrzydkie lutyr1;. Ja tam si? ciesz?, ?e uda?o mi si? zrobi?. Je?li Wy potraficie lepiej napiszcie to w komentarzach, pod artyku?em. A teraz po tym przyd?ugim wst?pie zapraszam do lektury, gdzie krok opisz? jak przerobi? chi?skiego Bowmana z wtykiem ICOM tak, aby dzia?a? wraz z Midlandem.



Co b?dzie potrzebne?



- lutownica

- kalafonia oraz cyna

- rezystor 2,2okhm

- izolacja termokurczliwa albo ta?ma izolacyjna

- Bowman chi?ski

- dwa midlandy.



Lutownica jest do nabycia w ka?dym sklepie elektronicznym jak te? i w szeregu sklepów jak Praticer/Castorama/OBI, tak samo jak izolacja termokurczliwa, cyna i kalafonia oraz rezystory. Ja akurat te kupi?em na allegro. 1 zl = 10 sztuk.

Rozbieramy Bowmana. Robimy to najpierw przez wyj?cie wtyczki od s?uchawki z zespo?u PTT, potem wykr?camy cztery ?ruby i zdejmujemy nakr?tki z nich. Zespó? sk?ada si? z dwóch po?ówek, które rozk?adamy. Wyjmujemy ze ?rodka kable wraz z wtyczkami.







Warto tutaj ju? zacz?? rozgrzewa? lutownic?. Teraz trzeba zdj?? izolacj? termokurczliw? z kabli na wtyczce, oraz samym przycisku PTT. Mo?na do tego u?y? no?yczek, no?yka, czegokolwiek ostrego.







Gdy to ju? zrobicie lutownica powinna by? ju? na tyle gor?ca, aby mo?na by?o zacz?? ni? pracowa?. Odlutowujemy wszystkie kabelki z PTT oraz wtyczki. Teraz nast?pi ma?a niespodzianka. W wersji I Bowmanów by?y 4 kable od strony wtyczki radia, tutaj mnie zaskoczy?y trzy kabelki, jako, ?e zamówi?em wersje drug?. Jak si? okazuje, Chi?czycy postanowili po??czy? dwa kable w jeden. Wystarczy zdj?? z niego termoizolacje, zobaczy?, który jest ?ó?ty, a drugi jest bez koloru. Oba rozdzielamy, zak?adamy na nie termoizolacje i gotowe.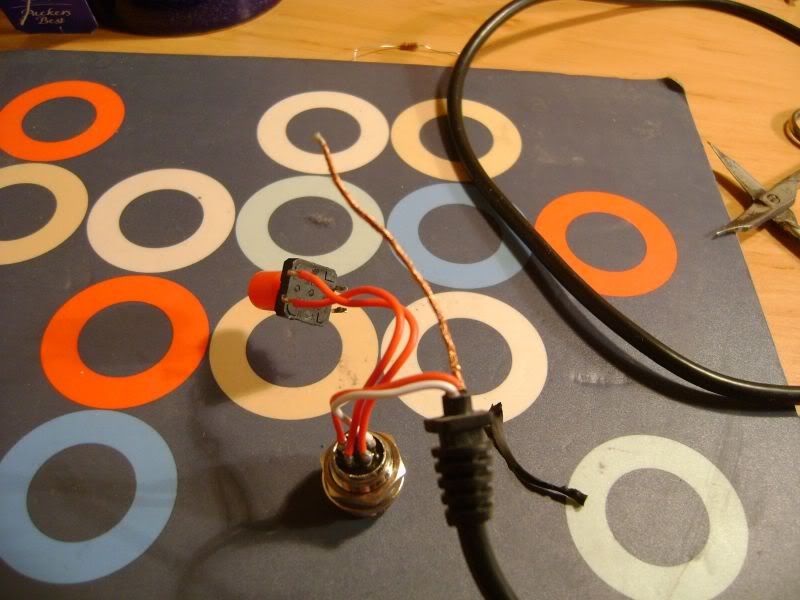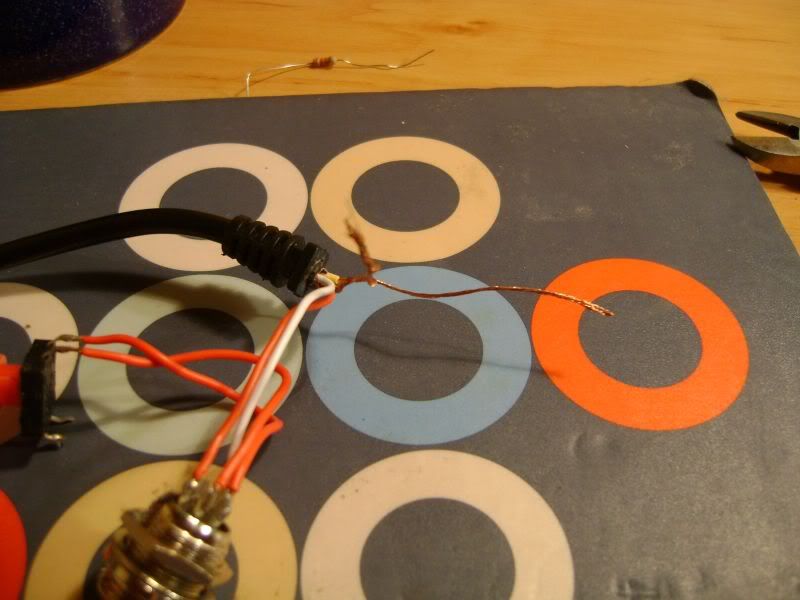 Bierzemy wtyczk? g?ówn?. Piny, do których trzeba przylutowa? kable s? ponumerowane. Najpierw przylutujemy te odpowiedzialne za d?wi?k, ?eby co? s?ysze?. ?ó?ty kabel nale?y przylutowa? do pinu nr. 2, a bia?y do nr. 5. One s? odpowiedzialne za fonie w zestawie. Te dwa czerwone kable przylutowujemy do dwóch pozosta?ych pinów maj?c, na uwadz?, ?e pin nr. 3 jest nieu?ywany i jego zostawiamy w spokoju.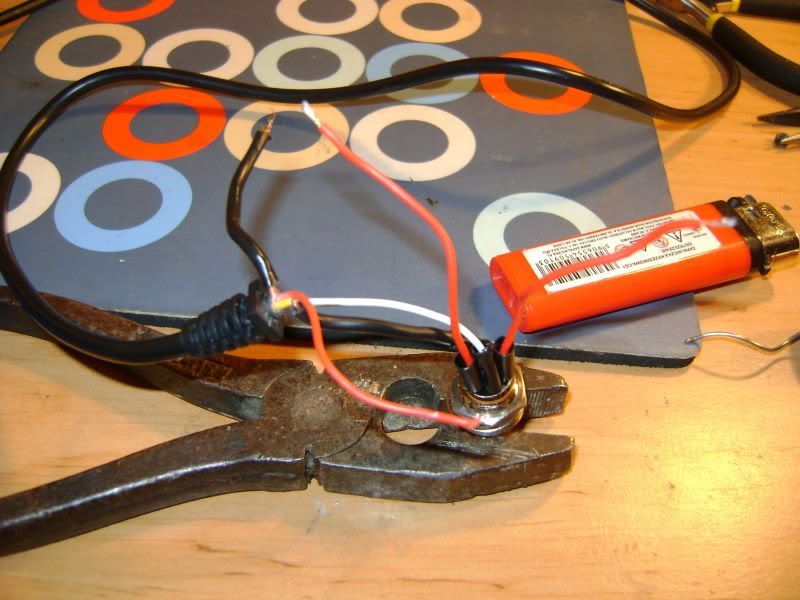 Teraz troch? trudna cz???. Bierzemy przycisk PTT, który na tym etapie powinien by? bez kabli. Do jednego, dowolnego z ko?ców przylutowujemy rezystor.







Nast?pnie trzeba przylutowa? kable do PTT, ale na krzy?. Ju? t?umacz? jak. Ten kabel, który by? skr?cony wraz z ?ó?tym pod??czamy do rezystora wraz z kablem z pinu nr. 1. Musz? one by? oba przylutowane do jednej nó?ki z rezystorem. Teraz kabel z pinu nr. 4 wraz z czerwonym zostaje przylutowany do nó?ki na drugim ko?cu PTT, ale po skosie.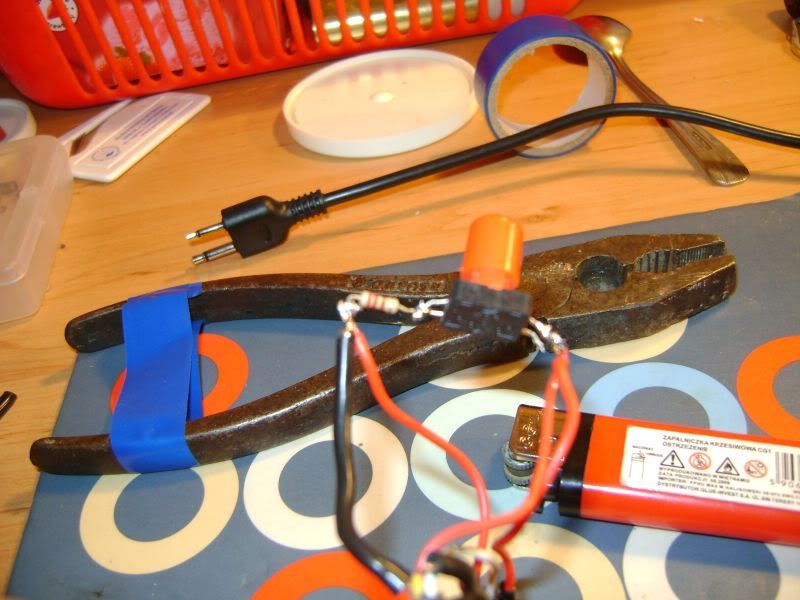 Gdy uporacie si? z tym nale?y tylko zaizolowa? kable, czy to izolacj? zwyczajn? czy teraz termokurczliw?. Sk?adamy wszystko do kupy tak jak rozk?adali?my i to koniec. Mo?emy si? cieszy? dzia?aj?cym, porz?dnym, zestawem.



PS. Jak wspomnia?em, nie jestem elektrykiem, elektronikiem, lutownic? pos?uguje si? jako tako oraz nie wiem, dlaczego akurat tak. Po prostu wiem, ?e tak dzia?a.


Po te i inne poradniki oraz bzdety zapraszam na http://ersoftkk.b...

| | |
| --- | --- |
| | |
| Podziel się tym wpisem | |
| Dodaj do: | |
| Adres: | |
| Na forum: | |
| HTML: | |
| | |
Oceny
Tylko zarejestrowani użytkownicy mogą oceniać zawartość strony
Zaloguj się
lub
zarejestruj
, żeby móc zagłosować.
---
Brak ocen. Może czas dodać swoją?
Kalendarz
<< Styczeń 2021 >>

| | | | | | | |
| --- | --- | --- | --- | --- | --- | --- |
| Po | Wt | śr | Cz | Pi | So | Ni |
| | | | | 1 | 2 | 3 |
| 4 | 5 | 6 | 7 | 8 | 9 | 10 |
| 11 | 12 | 13 | 14 | 15 | 16 | 17 |
| 18 | 19 | 20 | 21 | 22 | 23 | 24 |
| 25 | 26 | 27 | 28 | 29 | 30 | 31 |
Od 20110217 Odwiedziny gości:
| | |
| --- | --- |
| Dziś: | 29,055 |
Shoutbox
Musisz zalogować się, aby móc dodać wiadomość.
Niezb?dnik - Essentials :