Dawni GROM-owcy zostają najemnikami!
źródło: http://facet.wp.pl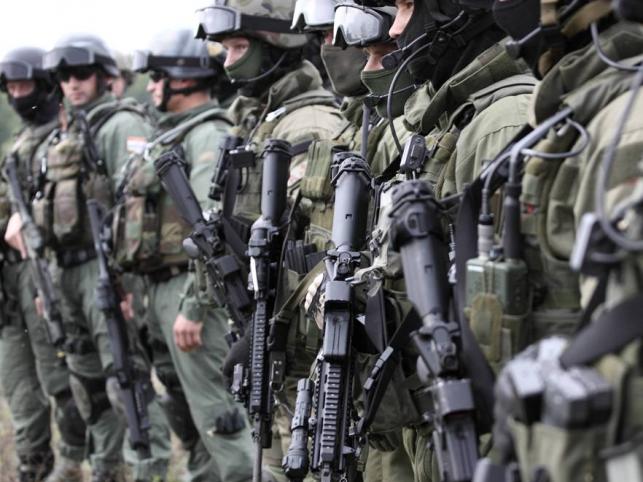 Zdjęcie: wiadomosci.dziennik.pl

Problem byłych najemników, antyterrorystów i żołnierzy jednostek specjalnych, od lat pozostaje w Polsce nierozwiązany. Ludzie ci, latami kształtowani są na zimnych profesjonalistów, gotowych podjęcia się każdego działania militarnego, jednak dopiero po odbytej służbie zmuszeni są oni stawić czoła najcięższemu zadaniu - zmierzeniu się z prozą życia. Nie dziwi zatem fakt, że wielu z nich kończy w objęciach nałogów, lub jako hitmeni w zorganizowanych grupach przestępczych. Inni walczą za pieniądze w najbardziej zapalnych rejonach świata...

Wojna to świetny biznes. Przekonują się o tym m.in. firmy ochroniarskie typu DynCorp czy Xe Services LLC (dawniej Blackwater USA), które na zlecenie rządów z całego świata zajmują się ochroną baz wojskowych, transportów, czy szkoleniami. Naturalnie, działanie w strefach podwyższonego ryzyka przekłada się na pokaźne zyski - oprócz kilkudziesięciu mniejszych firm, w samym Afganistanie funkcjonuje osiem potężnych międzynarodowych korporacji ochroniarskich, z których każda notuje milionowe wpływy z tego tytułu.

Oczywiście, aby wejście oraz sprawne operowanie na rynku firm ochroniarskich było w ogóle możliwe, trzeba dysponować odpowiednim zapleczem - w postaci najnowocześniejszego sprzętu (broń, transportery opancerzone, samoloty bezzałogowe itp.), rozbudowanej siatki wywiadowczej, wypracowanych procesów logistycznych i, przede wszystkim, wykwalifikowanej kadry. Mowa tu o byłych najemnikach z całego globu, którzy na bieżąco werbowani są do tego typu firm ochroniarskich. Co ciekawe, CV polskich komandosów, na zachodzie witane są szczególnie ciepło.
Zdjęcie: altair.com.pl
Jak podaje "Gazeta Wyborcza", szacuje się że w prywatnych firmach pokroju Xe, czy DynCorp pracuje około 300 byłych polskich komandosów i antyterrorystów z policji czy Straży Granicznej. Gazeta podaje również, że wśród kilku setek żołnierzy, którzy opuścili służby w ciągu ostatnich lat, dużą popularnością cieszą się działania werbunkowe prowadzone przez m.in. Fundację Byłych Żołnierzy Jednostek Specjalnych GROM. Fundacja jest swego rodzaju łącznikiem między żołnierzami a amerykańską firmą ochroniarską DynCorp.
Pracownicy Xe Services LLC są osobami bardzo sowicie wynagradzanymi. W trakcie prowadzonych operacji, ich dniówki sięgają kwoty nawet tysiąca dolarów (choć Polacy muszą zadowolić się kwotami odrobinę mniejszymi), nic więc dziwnego, że dla niektórych pokusa jest niemożliwa do odparcia. Najlepszym tego przykładem jest przypadek jednego z komandosów GROMu, który wymknął się z bazy wojskowej, zaciągnął się na kontrakt w Xe, a następnie po zakończonej misji powrócił do jednostki. Póki w Afganistanie żołnierze werbowani są za grubą gotówkę, takie przypadki jak ten, niestety mogą się powtarzać. Sytuację może zmienić wydany dwa tygodnie temu przez rząd Hamada Karzaia zakaz działalności firm ochroniarskich.

Czy jednak faktycznie, prywatne wojska tak po prostu wycofają się z Afganistanu, rezygnując tym samym z milionowych kontraktów? Wydaje się to wątpliwe, zwłaszcza biorąc pod uwagę fakt, że w 2007 podobny zakaz wydały władze Iraku, tymczasem w 2009 wyszło na jaw (źródło: "New York limes"), że Xe pomagało CIA lokalizować przywódców Al Quaedy.
Zdjęcie: wiadomosci.onet.pl
Już wcześniej deliberowano o dyskusyjnej działalności najemników, poddając pod wątpliwość metody ich działania, a także zakres kompetencji. Przykładowo, we wrześniu 2007 roku pracownicy Xe zastrzelili 17 Irakijczyków na placu Nisur (Bagdad). Późniejsze śledztwo FBI wykazało, że śmierć jedynie 3 z tych 17 osób była uzasadniona. Pracowników firm ochroniarskich oskarżano również o przemyt broni.
Lecz, z drugiej strony, nie można zapominać o pozytywnych działaniach Xe - w październiku 2007 helikopterem firmy wywieziono polskiego ambasadora w Iraku, Edwarda Pietrzyka, który, gdyby nie błyskawiczna reakcja ochroniarzy, najprawdopodobniej zginąłby w ataku rebeliantów.

Zresztą ataki terrorystów są groźne także dla komandosów zatrudnionych przez firmy ochroniarskie. Wystarczy wspomnieć, że w 2004 roku dwóch byłych żołnierzy GROM-u, pracujących dla Xe, zastrzelono w drodze na lotnisko.
Zdjęcie: wiadomosci.gazeta.pl
Dlatego praca w firmach ochroniarskich, choć dobrze płatna, to bardzo niebezpieczna alternatywa. Jednak większość byłych komandosów, nie ma większego pola manewru w kwestii planowania przyszłości. Inaczej jest chociażby w Niemczech czy Francji, gdzie byli wojskowi dostają szansę pracy w państwowych firmach, które potrafią wykorzystać ich potencjał. Zazwyczaj są to firmy "z branży", a byli komandosi mogą zarobić jako instruktorzy, czy specjaliści od zabezpieczeń.

U nas niestety, jak długo rząd nie zaproponuje jakiegoś sensownego rozwiązania, byłym komandosom pozostaje przeglądanie ogłoszeń, typu: "Najemnika na wojnę zatrudnię."