Psie ?arcie dla rosyjskiej armii
?ród?o: http://facet.wp.pl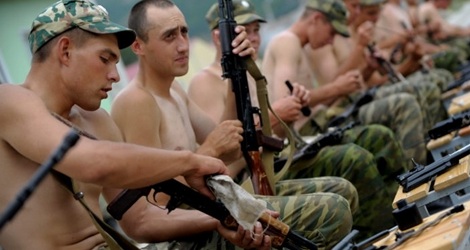 Tego jeszcze nie by?o! Wiadomo, ?e ?o?nierski wikt nie nale?y raczej do ?wiatowej czo?ówki wykwintnych kulinariów i nie przedstawia sob? rozkoszy podniebienia z najwy?szej pó?ki - nie taka jego rola.
Ma by? przede wszystkim tre?ciwy i syc?cy, a walory smakowe to sprawa drugorz?dna, cho? niepozostaj?ca bez wp?ywu na morale armii, która cz?sto kr?ci nosem na "psie" ?arcie. ?o?nierze Wojsk Wewn?trznych w Rosji z jednostki we W?adywostoku maj? jednak szczególne prawo, by wybrzydza? - naprawd? karmiono ich psi? karm?!

Zdymisjonowany major tamtejszych Wojsk Wewn?trznych Igor Matwiejew (s? to wojska podlegaj?ce Ministerstwu Spraw Wewn?trznych, nie Obrony) ujawnia szokuj?ce fakty dotycz?ce funkcjonowania jednostki na Dalekim Wschodzie Rosji.
Korupcja, malwersacje finansowe, nielegalna sprzeda? maj?tku pa?stwowego, a tak?e zatrudnianie w jednostce "na czarno" robotników z Chin i Korei, którzy nie posiadali nawet dokumentów - wszystko to by?o we w?adywostockiej jednostce na porz?dku dziennym. By?y major opisa? wszystkie zauwa?one przez siebie nieprawid?owo?ci w filmie wideo, który nast?pnie umie?ci? w Internecie. Apelowa? w nim do prezydenta Dmitrija Miedwiediewa i premiera W?adimira Putina o natychmiastow? interwencj? i przyjrzenie si? temu, co dzieje si? w jednostce. Oczywi?cie zosta? z miejsca zdymisjonowany przez miejscowych prze?o?onych.

Jednak najbardziej bulwersuj?c? sensacj? ujawnion? przez Matwiejewa jest sposób na oszcz?dzanie w dalekowschodnich Wojskach Wewn?trznych: by bud?etowa dziura, wynikaj?ca z korupcji i malwersacji, nie by?a zbyt du?a, postanowiono zaoszcz?dzi? na wy?ywieniu ?o?nierzy i karmiono ich... karm? dla psów.
zdj?cie: observers.france24.com
"G?upio o tym mówi?, ale ?o?nierzy karmiono psim ?arciem. Podawano im to jako gulasz" - mówi w wywiadzie dla Reutersa Matwiejew.

By?y ?o?nierz informuje, ?e na którym? z etapów dostarczania puszek z psim ?arciem do jednostki, etykietki informuj?ce o zawarto?ci by?y podmieniane na takie, wed?ug których w ?rodku znajdowa?a si? "wysokiej jako?ci wo?owina". Kiedy l?dowa?a na ?o?nierskim stole by?a ju? gulaszem. Jednak nie wo?owym, a psim.

Czyli jak zwykle na szachrajstwach "wierchuszki" ucierpieli zwykli ?o?nierze, którzy od teraz zapewne b?d? odnosi? si? z jeszcze wi?ksz? nieufno?ci? do podawanego im "gulaszu". I s?usznie najdzie ich refleksja, ?e wiod? "?ywot sobaczy".

KP/PFi