GROM zmienia dowódcę. Został nim ppłk Piotr Gąstał
zsz, rik, PAP, wiadomosci.gazeta.pl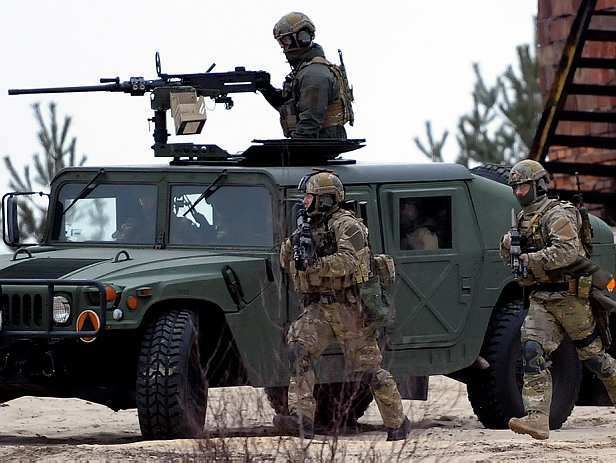 zdjęcie: tvp.info
Ppłk Piotr Gąstał mianowany został nowym dowódcą GROM-u. Zastąpi na tym stanowisku płk. Jerzego Guta, który awansował na zastępcę dowódcy Wojsk Specjalnych. Nominacja Gąstała to próba wygaszenia konfliktu pomiędzy GROM-em a Dowództwem Wojsk Specjalnych - podaje "Polityka" na swoich stronach internetowych.
Ppłk Piotr Gąstał ma 43 lata. Jako jeden z pierwszych żołnierzy przyjętych do GROM, służył tam prawie 20 lat. Był na misji na Haiti, wschodniej Slawonii, Kosowie i w Iraku - pisze "Polityka".

Nowy dowódca GROM-u ukończył politologię na Uniwersytecie Warszawskim. Podyplomowo studiował bezpieczeństwo narodowe na UW. W 2008 r. obronił pracę naukową na Naval Postgraduate School w Monterey.

- Piotrek świetnie mówił po angielsku, co na początku wcale nie było naszą mocną stroną. Szybko zaczął był wykorzystywany do kontaktów z sojusznikami - mówi jeden z kolegów nowego dowódcy.

Ppłk Gąstal utrzymał stanowisko zastępcy jednostki, po tym jak jej ówczesny dowódca płk Dariusz Zawadka odszedł ze służby po konflikcie z dowództwem DWS.
Zdjęcie: grom.mil.pl
"Daje szansę na normalność"

- To dobra nominacja. Daje nadzieję, że stosunki pomiędzy jednostką, a DWS się ustabilizują i jedni przestaną wykańczać drugich. To był konflikt do ostatniej krwi, który nikomu nie służył. Gąstał daje szansę na normalność - mówi "Polityce" jeden z generałów zorientowanych w temacie.

Ppłk Piotr Gąstał ukończył politologię na Uniwersytecie Warszawskim. Podyplomowo studiował bezpieczeństwo narodowe również na UW . W 2008 r. obronił pracę naukową na Naval Postgraduate School w Monterey. Zajął się analizą ataków terrorystycznych na ludność cywilną. Prywatnie mąż, ojciec dwóch synów.
ppłk Piotr Gąstał
zdjęcie: t0.gstatic.com
Konflikty w oddziale

Do września 1999 r. GROM podlegał MSWiA, potem został podporządkowany MON. Wtedy też ówczesny koordynator służb specjalnych Janusz Pałubicki odwołał Petelickiego ze stanowiska dowódcy. W maju 2000 r. dowódcą został płk Roman Polko, który dowodził nią do stycznia 2004, kiedy to odszedł ze służby. Zastąpił go płk Tadeusz Sapierzyński. Polko wrócił na stanowisko na początku 2006 r. i dowodził jednostką do listopada 2006 r., kiedy - odchodząc na stanowisko wiceszefa Biura Bezpieczeństwa Narodowego - przekazał dowodzenie płk. Piotrowi Patalongowi.

W marcu 2008 r. płk Patalong został przeniesiony na stanowisko dowódcy 18. Batalionu Desantowo-Szturmowego w Bielsku Białej. Tymczasowym dowódcą GROM został ppłk Gut - wówczas zastępca Patalonga. Gut kierował wtedy jednostką przez cztery miesiące, do lipca 2008 r. Wtedy to dowódcą został płk Dariusz Zawadka - b. żołnierz GROM, powołany z rezerwy.

Latem 2010 r. Zawadka złożył wypowiedzenie ze stanowiska; dowódcą GROM ponownie został wtedy płk Gut. Według pojawiających się w mediach nieoficjalnych informacji, powodem odejścia Zawadki miały być planowane zmiany kadrowe i zapowiedź powołania przez prezydenta elekta Bronisława Komorowskiego na stanowisko dowódcy Wojsk Specjalnych płk. Patalonga.

Cztery trudne misje

GROM - Jednostka Reagowania Operacyjno-Manewrowego - została powołana 13 lipca 1990. Zorganizowana według wzorów amerykańskich i brytyjskich od początku składała się wyłącznie z zawodowców i była przeznaczona do działań specjalnych, w tym antyterrorystycznych, poszukiwawczych, rozpoznania, odbijania zakładników.

Żołnierze GROM brali udział w misjach na Haiti (1994), na Bałkanach (1996), w Iraku i Afganistanie. Za jeden z ich większych sukcesów uznaje się pojmanie w Slawonii zbrodniarza wojennego Slavko Dokmanovicia.

Za twórców jednostki uznawani są gen. Sławomir Petelicki - pierwszy dowódca, a także ówczesny minister spraw wewnętrznych Krzysztof Kozłowski. W 1995 r. jednostka przyjęła za patrona Cichociemnych - legendarnych komandosów - spadochroniarzy Armii Krajowej.
źródło: http://wiadomosci.gazeta.pl


Więcej o kulisach mianowania nowego dowódcy GROM-u na polityka.pl >>