Strzelec wyborowy, a snajper
DerFleischer Specjalizacja: Niemiecka Technika Wojskowa II wojny, aspekty walki, szkoleń, kamuflaże, taktyka.

Nie da się nie zauważyć, iż pojęcia te u nas są często mylone, bądź po prostu uznawane za synonimy.
Wynika to prawdopodobnie z braku określenia "Snajper" w wojsku polskim. Pozwolę sobie sprostować temat i zdefiniować oba pojęcia. Strzelec wyborowy – czyli żołnierz posiadający dobre umiejętności strzeleckie, działa on z innymi żołnierzami w grupie, jest podporządkowany rozkazom danego oddziału.
Najczęściej jest wyposażony w karabinek samopowtarzalny o przodującej celności,
z optyką o niewielkim przybliżeniu bądź bez.
Taki żołnierz ma prowadzić ogień z dalszych dystansów niż jego szturmowi koledzy.
Z angielskiego Designated Marksman – strzelec wyborowy.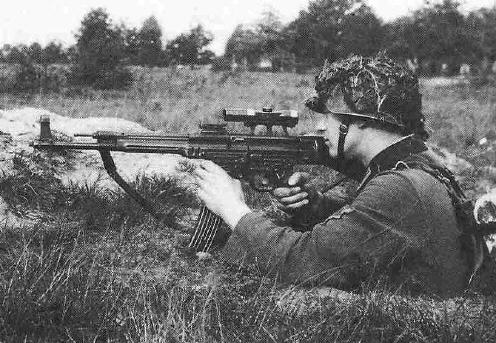 Fotografia strzelca wyborowego Wehrmachtu z 44' roku.
(Wyposażony jest w karabin szturmowy STG 43/44 z selektorem ognia, z dołączoną optyką
ZF41 (Zielfernrohr) o przybliżeniu 1.5x15)


Snajper – żołnierz wyszkolony w balistyce, kamuflażu, a także zmuszony najczęściej do "wylegiwania"
się przez wiele godzin w jakichś krzakach wśród węży dzikich i tym podobnych…
Dla przykładu , w armii USA załoga snajperska to 2 osoby; Strzelec oraz spotter.
Spotter - czyli wypatrujący celu dla swojego kolegi. Często zamieniają się oni swoimi rolami ze względów zdrowotnych.
Długie patrzenie na świat z perspektywy krzyża snajperskiego zasadniczo męczy oko.
Owy "Sniper" wyposażony jest w karabin powtarzalny/ inny , z przystosowaną do niego optyką dalekosiężną,
działa najczęściej na tyłach wroga, osłaniając sprzymierzone oddziały, bądź eliminując oficerów/ ważne osoby,
czy też załogi pojazdów – w przypadku doposażenia się w różnokalibrową broń.
(Znaleziona w internecie fotografia współczesnego snajpera.)


Pierwsi strzelcy byli tytułowani mianem Strzelca Wyborowego już nawet podczas Powstania Listopadowego.
Tak więc podsumowując, strzelcem wyborowym zostaje się z czyjegoś wyboru – snajperem, zazwyczaj z własnego ;)

DerFleischer