Yukon NVMT 4, generacja 1

Bushnell Noktowizor Digital Stealth View 5x42, generacja2+

PVS-14, generacja 3.
Yukon NVMT 4, proste tanie urz?dzenie. Noktowizor bez powi?kszenia i bardzo dobrze. Po zamocowaniu go bardzo wygodnie si? z nim chodzi, do tego jest ma?y i lekki. Jednym s?owem nie przeszkadza. Szybko si? w??cza, oszcz?dny (jeszcze nie mia?em okazji wymienia? baterii). Niestety ograniczenia pierwszej generacji sprawiaj? ?e gdy zapadnie noc w lesie w trybie pasywnym niewiele lepiej wida? ni? bez noktowizora widzimy najwy?ej kilka metrów przed sob?, nie obiedzie si? bez w??czenia trybu aktywnego, wtedy widzimy w ?rednim lesie na ok 13m. Tutaj jednak zaczynaj? si? problemy z t? generacj?, co prawda widzimy du?o lepiej ale i oko nieuzbrojone potrafi z ok 24 metrów wypatrzy? ?wiec?c? si? czerwon? diod? a poprzez dowolny noktowizor widzimy olbrzymi refleks ?wiat?a.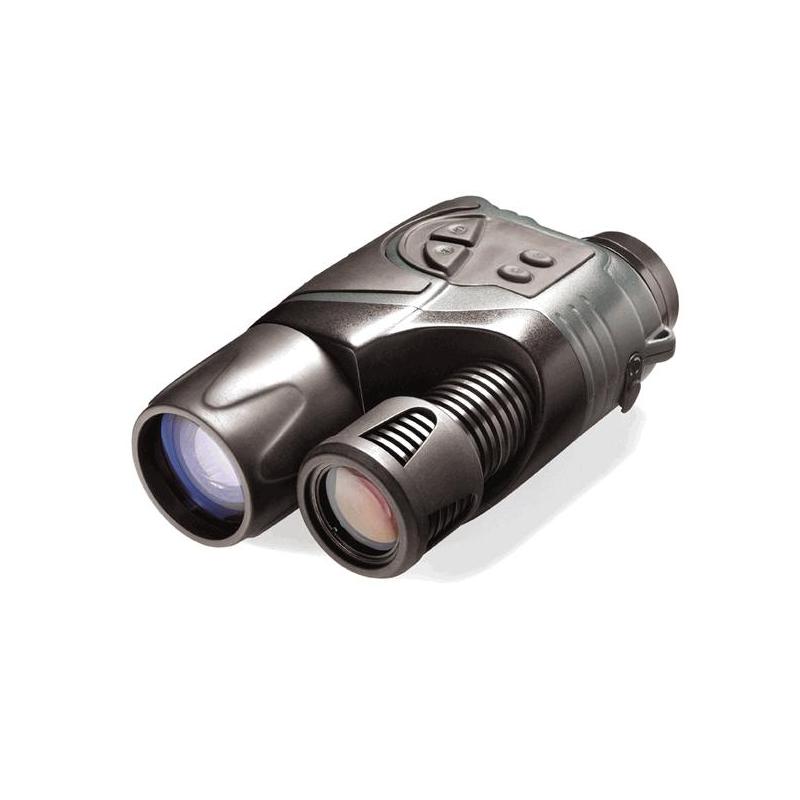 Tu na scen? wchodzi generacja 2+ w postaci Bushnell 5x42 Stealth. Niewiele wi?kszy model od poprzednika. Nie specjalnie drogi. Zasilany 6 bateriami typu AA. Urz?dzenie oprócz przycisku w??czaj?cego iraz IR posiada regulacje jasno?ci obrazu, poza tym mo?na ma gniazdo dzi?ki któremu mo?emy nagra? obraz na urz?dzenie zewn?trzne. Po w??czeniu trzeba odczeka? ok. 4 sek a? ekran stanie si? ostry. I tutaj wida? pierwsz? ró?nic?, obraz jest prostok?tny, czarno-bia?y przypominaj?cy s?abej jako?ci obraz z kamer przemys?owych. Generalnie to kolejny minus bo po d?u?szej obserwacji nasze oko jest kompletnie o?lepione kiedy zdejmiemy noktowizor.
Po dok?adniejszym obejrzeniu ze zdziwieniem stwierdzam ?e to urz?dzenie nie dzia?a w trybie pasywnym, owszem s? tam dwa tryby pracy które mo?na nazwa?, aktywny s?abszy i aktywny mocniejszy. Ten pierwszy korzysta ze s?abszej dolnej lampy, ten drugi z tej wi?kszej.
Zasi?g obrazu w pierwszym trybie jest zbli?ony do dzia?ania trybu aktywnego w NVMT. Bushnell rozwija skrzyd?a po w??czeniu drugiego trybu, masz wra?enie jakby? w??czy? dobrze skupion? latark?, od razu trzeba zmniejszy? jasno?? obrazu. Zasi?g obrazu jest kilkakrotnie wi?kszy ok 35m.
Na plus tego urz?dzenia mo?na zaliczy? maskowanie ?wiecenia tych lamp, okiem nieuzbrojonym du?o trudniej zauwa?y? ich ?wiecenie, tej s?abszej nie mog?em zauwa?y?, t? mocniejsz? ledwo ale zauwa?y?em z 20 metrów ale tylko gdy ?wieci?a prosto na mnie.
Patrz?c przez noktowizor gen1 z ok 23m. wychwyci?em s?abszy pod?wietlacz Bushnella, mocniejszy pod?wietlacz mia? zasi?g sporo sporo wi?kszy
ale i tak w porównaniu z NVMT wynik by? du?o lepszy.
Bushnell ma zoom x5 niby fajnie ale przez to noktowizor moim zdaniem nie nadaje si? do chodzenia. Ten zoom i jasno?? obrazu ograniczaj? urz?dzenie jako typowo obserwacyjne kiedy siedzimy w jednym miejscu.
Generalnie trudno jednoznacznie odpowiedzie? ?e które? z tych noktowizorów jest w 100% lepsze od drugiego. NVMT oraz Bushnell uzupe?niaj? si?, ten pierwszy jest dobry do chodzenia ten drugi do sta?ej obserwacji.
Urz?dzeniem który z powodzeniem mo?e zast?pi? obydwa poprzednie urz?dzenia mo?e by? z pewno?ci? PVS-14, przedstawiciel 3 generacji. Jest to oczywi?cie zupe?nie inna pó?ka cenowa. Model równie? zasilany bateriami AA.
Noktowizor niewiele wi?kszy od Bushnella, posiadaj?cy okulary na dwoje oczu. Po w??czeniu otrzymujemy natychmiastowy obraz niedost?pny dla starszych generacji i to w trybie pasywnym. Generalnie mog?em zauwa?y? cz?owieka z odleg?o?ci ok. 70m w lesie o ?redniej g?sto?ci. Jest tu te? co prawda te? tryb aktywny z malutk? lampeczk? o?wietlaj?c? najbli?sze otoczenie, ale chyba tylko wykorzystywany w budynkach mocno zaciemnionych
Reasumuj?c zupe?na inna jako??, zupe?nie inne pieni?dze..